When George Foreman put his name on an upstart grill in 1994, nobody was prepared for it to be more lucrative than any bout he had with other boxers.
As a result, a fad of other celebrities shilling knock-off versions of the grill was born. From other boxers to wrestlers, athletes to actors, the Foreman Grill spawned an entertaining trend of cooking equipment endorsed by an eclectic group of celebrities. 
The Jackie Chan Grill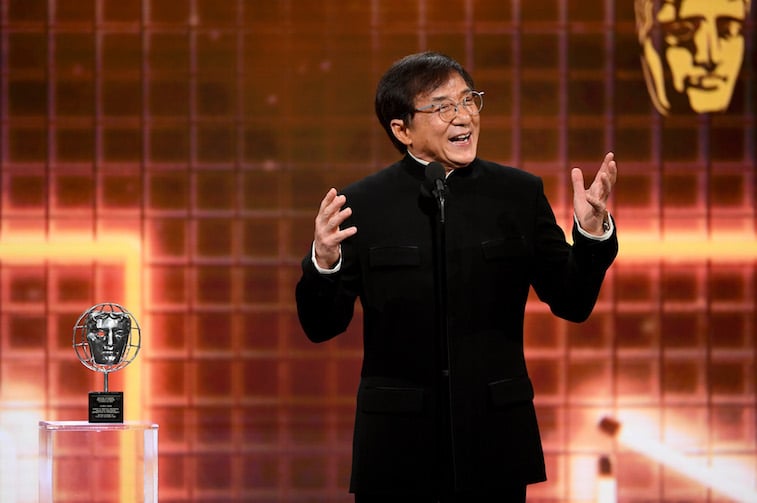 RELATED: Jackie Chan to Star in MCU's 'Shang-Chi' as Zheng Zu: Marvel Leak or Lie?
In China, where George Foreman is not the household name that he is in the States, Salton Inc. needed a name that would excite consumers and get them in line for a grill. Enter Jackie Chan. 
Chan is one of the most famous names in Chinese entertainment, and while he is mostly known for his acting in America, he's a multi-hyphenate superstar in his home country. 
The Jackie Chan Grill, unlike the other knockoffs, was the same grill that Americans called the foreman grill. In the commercials and the infomercials, however, Chan was the one who served at its face.
It offered the same angled design and healthy promises as the Foreman Grill but catered to a Chinese audience. 
In the case of the other names who tried to capitalize on the trend, it wasn't quite as easy to break through.
Carl Lewis Health Grill
For a time in the 1980s, Carl Lewis was one of the most recognizable Olympic athletes. His long-jumping ability allowed him to be one of the rare track and field athletes to come into the cultural lexicon. To this day, Lewis is synonymous with success on the field.
By 2004, however, it wasn't clear that Lewis was big enough to sell a product as Foreman did. 
With a design that was just different enough to bypass legal issues with the Foreman Grill, the Carl Lewis Health Grill offered similar promises of cooking fat out and making the grilling process easier.
Unfortunately, there was not a market for the Lewis Grill, and it never got the boost that people wanted it to have. 
The Hulk Hogan Ultimate Grill
RELATED: Hulk Hogan's Messy Divorce Cost Him a Fortune
The George Foreman Grill may very well have been the Hulk Hogan Grill if the wrestler had made the right decision.
According to Hogan, he was offered the grill and either didn't get the message in time or chose to endorse other products, depending on which version he tells. Whatever the case, Hogan missed out on a lucrative opportunity if he is to be believed. 
Fast forward several years, and Hogan tried his hand at a different version. He invested in a grill that eventually became the Hulk Hogan Ultimate Grill. Unfortunately for him, that grill ended up being a fire hazard and a flop.
It didn't help him on his road to near-bankruptcy, although his lawsuit against Gawker may have helped upend his financial woes. 
The Evander Holyfield Real Deal Grill
In 2008, superstar boxer Evander Holyfield was winding down his long and successful boxing career. Trying to figure out what to do next, Holyfield tried to capitalize on the Foreman market with his Real Deal Grill.
The results were not a knockout, to say the least. Despite similar commercials to the Foreman Grill featuring Holyfield behind it, the product quickly faded into oblivion. 
Several of these grills are still available to buy thanks to eBay and other second-hand sites, but what they truly represent is how hard it is to piggyback off of somebody else's idea.
The wave of copycats has subsided while the Foreman Grill continues to thrive. Whatever the next great innovation in technology is, however — hopefully the next generation of celebrity will learn the value of coming in first. 
Source: Read Full Article