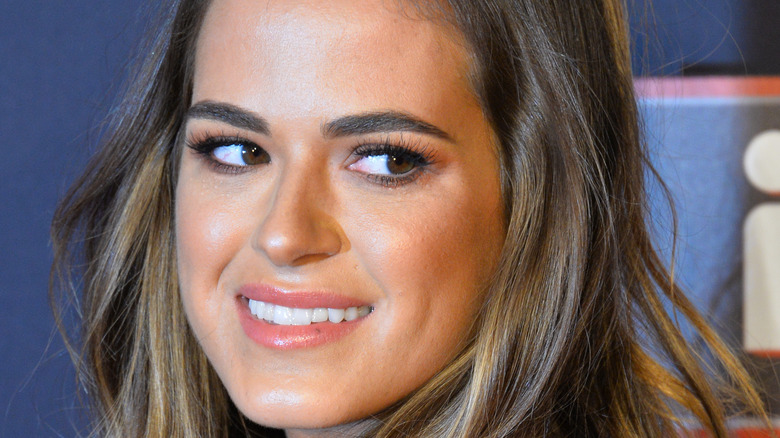 What does it mean to win "The Bachelor"? Contestants appear on the long-running reality show hoping to find the love of their lives, though only one actually takes home the lead — well, most of the time. While some women find friendship, fame, and sponsored Instagram posts with no hard feelings, other women end up emotionally invested and headed straight toward heartbreak. Some unlucky women make it all the way to the final two, falling for the Bachelor, and envisioning their futures together, only to have their hearts shattered on national television. 
But, sometimes, losing "The Bachelor" ends up being a lucky break. Maybe the Bachelor turns out to be a jerk. Maybe the runner-up goes on to find her real Mr. Right on "The Bachelorette." And, more often than you'd think, the lead decides that his number two is really the one for him. Here are the runner-ups who ended up being the real winners.
Trista Sutter was the OG runner -up and OG Bachelorette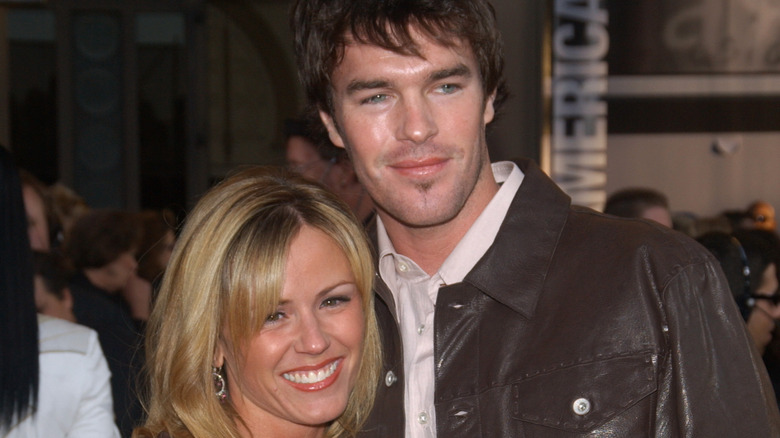 In the very first season of "The Bachelor", Alex Michel turned down physical therapist/former Miami Heat dancer Trista Rehn in favor of Amanda Marsh (via Marie Claire). Apparently, Alex had regrets over his choice. According to Trista, Alex emailed her while he was still with Amanda, trying to "keep the door open" on their relationship — emails that Trista promptly forwarded to Amanda (via Entertainment Weekly). Naturally, that led to the end of Alex and Amanda.
But America still fondly remembered Trista, leading ABC to make her the lead of the inaugural season of "The Bachelorette." Trista fell for firefighter Ryan Sutter, offering him her final rose (via US Weekly). The couple officially tied the knot on national television in 2003. They eventually welcomed children Maxwell and Blakesley. In December 2020, Trista and Ryan celebrated their 17th wedding anniversary (via TODAY). Now that's what we call a happily-ever-after ending.
Clare Crawley followed a rocky road to true love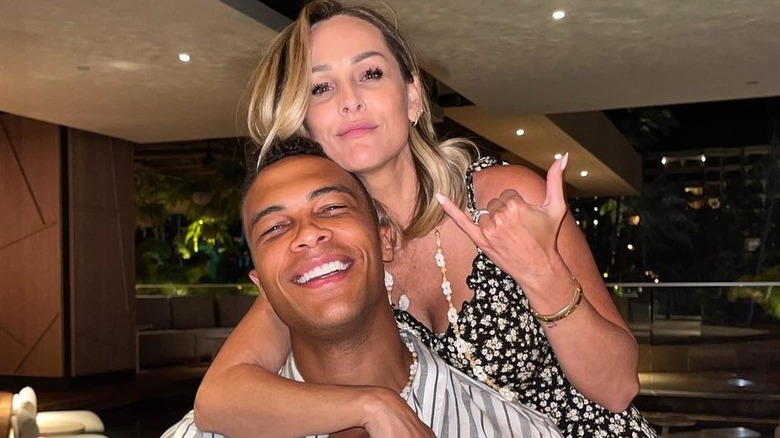 Clare Crawley had one of the most memorable-kiss off lines in "Bachelor" history when Juan Pablo Galvais declined to give her his final rose (via E! Online). In the dramatic goodbye, Clare declared, "What you just made me go through — I would never want my children having a father like you." Juan Pablo offered his final rose to Nikki Ferrell, though that relationship didn't stick.
Despite the messiness, Clare wasn't shy about coming back on camera to find love. She appeared on two seasons of "Bachelor in Paradise," though her goofily-edited conversations with a raccoon were better remembered than any romance that sparked on the beach (via Insider). Undeterred, Clare made another stab at love on "The Bachelor Winter Games." Canadian Benoit Beauséjour-Savard proposed to her in the finale, and though Clare accepted, their engagement was quickly called off. No hard feelings, though, as Benoit sent his best wishes when Clare was named the Bachelorette.
Of course, Clare being Clare, her season of "The Bachelorette" was raw, emotional, and honest. Clare fell hard for former NFL player Dale Moss — so hard, in fact, that she called off her season in a matter of weeks (via Page Six). Unfortunately, the pair went through a messy break-up soon after their relationship went public, but it appears that Dale and Clare are very much back on. They're even Instagram official, with Dale sharing Instagram photos where Clare is, once again, wearing her Neil Lane engagement ring. Whether Clare and Dale make it up the aisle, one thing's for sure: it's better than being stuck with Juan Pablo.
Molly Mesnick had the most dramatic live episode ever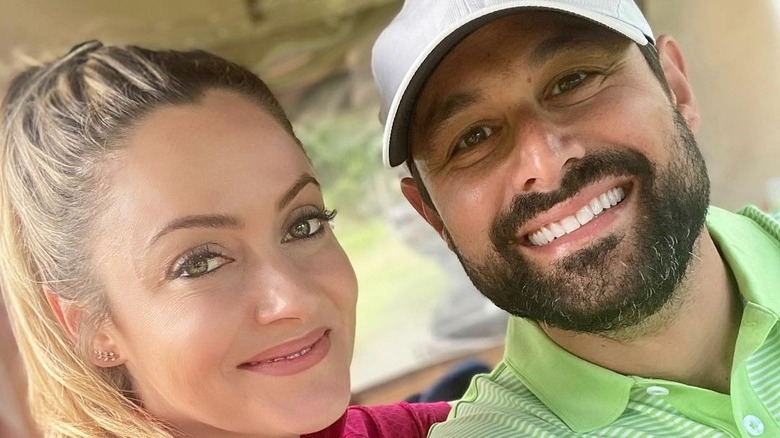 When "Bachelor" runner-up Molly Malaney arrived at the ABC soundstage to film "After the Final Rose" in 2009, she had no idea her life was about to change. During the finale, single father Jason Mesnick had offered his final rose to Melissa Rycroft (via US Weekly). Molly herself had accepted producers' offer to be the next Bachelorette (via People). What Molly didn't know was that Jason had broken up with Melissa. She was totally shocked when Jason asked her to try again.
Molly ended up giving up the Bachelorette spot to start dating Jason again. This time, Jason's choice worked out. He and Molly were married in 2010, and they're still going strong today, celebrating their 11th anniversary in February. They also share daughter Riley, which, with Jason's son Ty, makes a sweet family of four. It might have caused waves a decade ago, but Molly, Jason, and Melissa all agree that things turned out how they were supposed to.
JoJo Fletcher found her fiance and TV co-host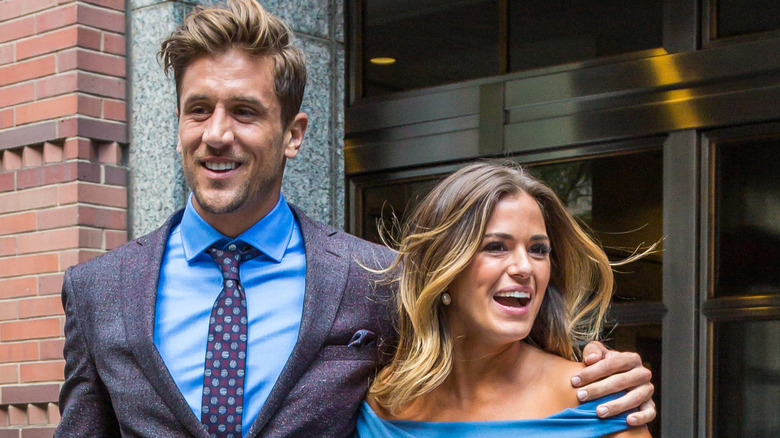 In 2016, Ben Higgins did something no Bachelor had done before: he said "I love you" to two women (via ET). One was Lauren Bushnell, who ended up getting Higgins' final rose. The other was JoJo Fletcher, who was blindsided by Ben's choice. JoJo's story made her a shoe-in to be the next Bachelorette. That's where she met Jordan Rodgers, a former college quarterback and brother of NFL legend Aaron Rodgers.
The picture-perfect couple soon began parlayed their Bachelor stardom into a series of other TV hosting gigs. Together, they hosted "Cash Pad" on CNBC, "Fittest Couples" on Paramount Network, and the upcoming TBS reality dating show "The Big D" (via The Hollywood Reporter). Plus, Jordan used his football expertise as a commentator on ESPN's SEC Network (via Sports Broadcast Journal).
JoJo and Jordan looked like the exemplary TV couple. And at first, a TV romance was all it was. JoJo admitted that, in the early days, it was mostly pressure from fans that kept her and Jordan together (via US Magazine). But over time, their relationship deepened, and wedding bells have been on the horizon for years. Their wedding was originally scheduled for June 2020, before the COVID-19 pandemic necessitated pushing back the date (via People). Fame and a supportive partner who shares your TV dreams? Now that's a win.
Tayshia Adams and Hannah Godwin are both runner-ups and both winners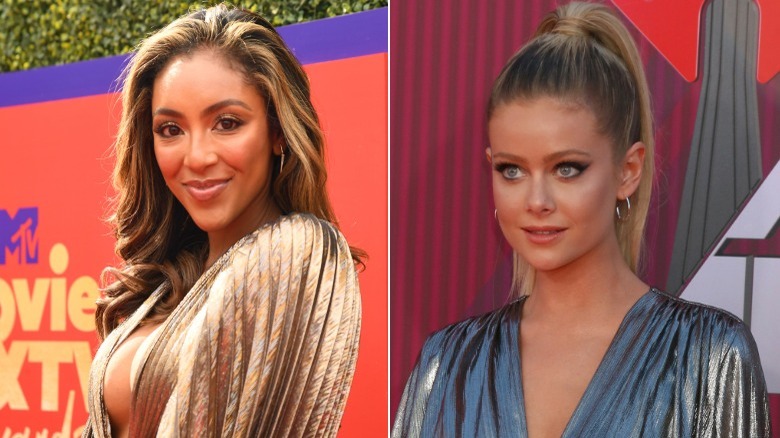 When Colton Underwood decided his final rose would go to Cassie Randolph, he had to turn down two amazing women: Tayshia Adams and Hannah Godwin (via People). And while the rejection might have stung at the time, both women have gone on to have huge personal and professional success.
Hannah found her match on the beaches of "Bachelor in Paradise" (via US Magazine). She got engaged to Dylan Barbour in Mexico, and their relationship is still going strong. Godwin has built her platform as an influencer, and has collaborated with JustFab on clothing lines (via US Magazine).
Tayshia also tried her luck on "Bachelor in Paradise", though her connection with John Paul Jones didn't last (via Marie Claire). Fortunately, she stepped in as the Bachelorette when Clare Crawley exited, and met her fiancé, Zac Clark. Most recently, Tayshia was tapped to co-host Katie Thurston's season of the series alongside Kaitlyn Bristowe (via TODAY). Could Tayshia eventually take over for Chris Harrison? Fans aren't ruling it out.
Source: Read Full Article