Pop star Demi Lovato has recently come back into the limelight. She released singles "Anyone," "I Love Me," and "I'm Ready" with Sam Smith. And her seventh album is thought to be on the way. But in an interview released in April 2020, she instead looked to the past, breaking down her the video for her 2017 single "Sorry Not Sorry." And she revealed some exciting new information.
Demi Lovato released 'Sorry Not Sorry' in 2017
"Sorry Not Sorry" was the first single off Lovato's 2017 album Tell Me You Love Me. The single went platinum, and helped the album do the same. This led into her YouTube documentary Demi Lovato: Simply Complicated, which revealed much about her past.
Lovato then went on her Tell Me You Love Me World Tour. This was her most recent tour. In July 2018, Lovato was hospitalized following a drug overdose. After taking some time off from music, the singer returned in 2020, performing the national anthem at the Super Bowl and releasing her aforementioned new songs.
Jay-Z helped her choose the single and the concept for her video
Speaking to Harper's Bazaar in 2020, Lovato spoke about how it was "pretty cool" that Jay-Z helped her choose her first single for her previous album. "I played him my first two contenders for my first single. It was 'Sorry Not Sorry' and 'Tell Me You Love Me,' and I didn't know which one to go with," she said.
Lovato continued. "And he was like, 'You know what, when I hear this song I think of you. I think I saw a video of you online at your house having a party and you looked like you were having so much fun. Everything with your music has always been so heavy.' He's like, 'Why don't you make the music video really fun too?'"
The rapper has continued to support Lovato throughout the years. He in attendance for her big Super Bowl moment. Apparently, he and Beyoncé were moved by her performance, calling her "beautiful" and saying they were "so proud of her."
Jamie Foxx and more star-studded cameos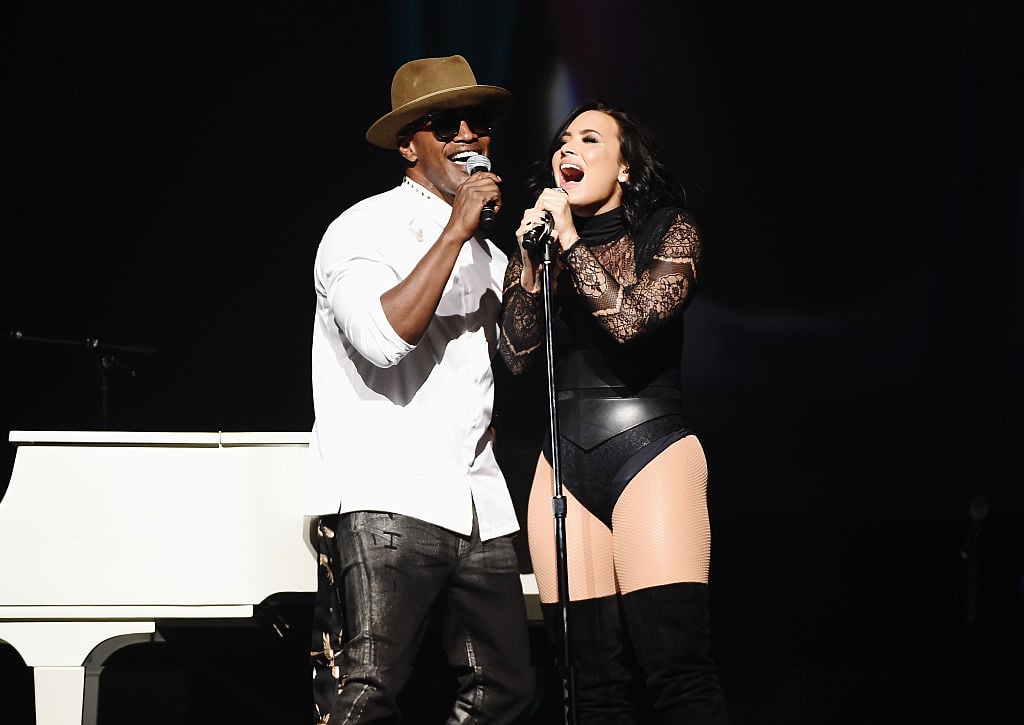 Jay-Z wasn't the only celebrity who had something to do with the "Sorry Not Sorry" video. "I just went through my phone book and texted some people to see if they wanted to be in the video," she told Harper's Bazaar. "And Wiz [Khalifa] is a good friend of mine, Paris [Hilton] I've known since I was like 15. So it was dope. And then Jamie [Foxx] I knew through a mutual friend."
The mutual friend Lovato is talking about could be Nick Jonas, who she has stated she's no longer in touch with. Foxx performed with Lovato and Jonas at the New York City stop on their Future Now Tour in July 2016 (above). However, it could be Hailey Bieber, who was also there that night, and who Lovato recently called her "guardian angel."
One famous person in the video stood out to Lovato. "It was hilarious because Paris Hilton did bring, I think it was like 11 or 12 suitcases full of clothes just to make a cameo in my music video," she said. "And I didn't even bring that many clothes to pick [from]. And it was just funny because I think there was one point in the night where I was like, 'How is your outfit more glamorous than mine?'"
Source: Read Full Article