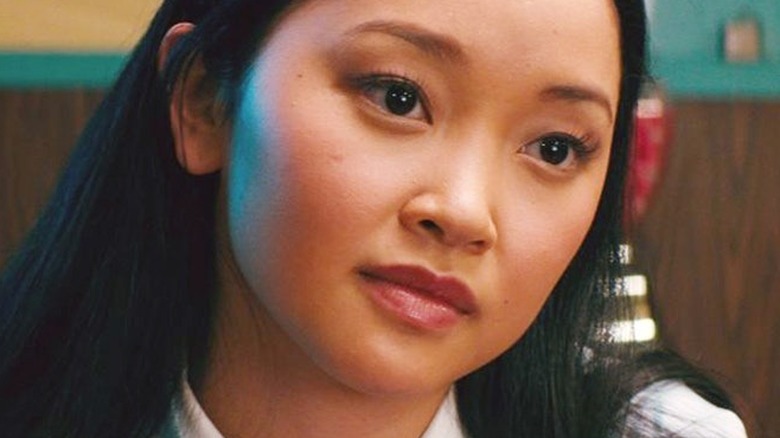 The "To All The Boys" trilogy may have (sadly) ended with its third and final film earlier this year, but let's face it — we would all be lying if we said we're not still obsessed with the movies! After all, the popular Netflix trilogy had everything we ever wanted in a teen rom-com series, including secret love letters, colorful scenes, and a sweet romance between the adorable Lara Jean (Lana Condor) and her beau Peter (Noah Centino).
But perhaps the most iconic part of the movies (besides all the romance, of course) was the ultra-fashionable wardrobe of Lara Jean, who showcases her unique, girly style throughout all three films. In fact, as noted by Elle, Lara Jean quickly establishes herself as a style icon with her many colorful outfits, often mixing and matching "vintage and off-the rack pieces in a soft color palette dominated by blue, yellow, and pink." This, of course, leads us to the question: Which of her amazing outfits are her best and most iconic?
Thankfully, we've rounded up some of Lara Jean's best fashion moments in the "To All The Boys" franchise, from her cutest dresses to her most fashion-forward ensembles in the films. Consider this our own love letter to all the outfits we've loved before!
Lara Jean's pink coat was an iconic piece from her wardrobe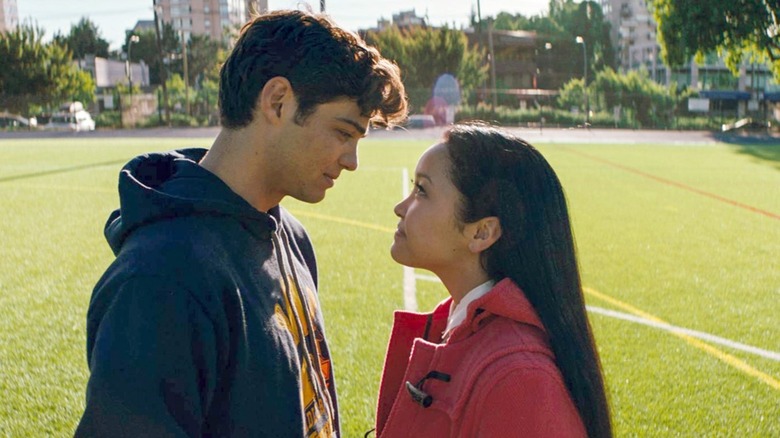 If there's one piece of clothing that's truly iconic in the first "To All The Boys" movie, it's Lara Jean's bright pink duffle coat, which she most notably wears while reconciling with Peter in the final scene of the film (which involves a super-romantic, swoon-worthy kiss!). It even makes an appearance in the sequel movie, as the film's costume designer, Lorraine Carson, revealed to ET. "This is the iconic thing that everybody will recognize," she said of the duffle coat.
But the surprising thing is that the coat isn't actually the memorable shade of hot pink we all see in the movie — in fact, in real life, it's a shade of coral. "With the filters that we are using on our film, the color filters and the color timing, this coat, which to our eyes looks coral on the film, looks hot pink," Carson explained.
Still, regardless of its true color, there's no doubt that the coat is an iconic piece that's representative of Lara Jean's signature feminine style — not to mention, it's such an essential part of our favorite romantic scene from the movie.
Lara Jean wore the perfect Valentine's Day outfit in the second movie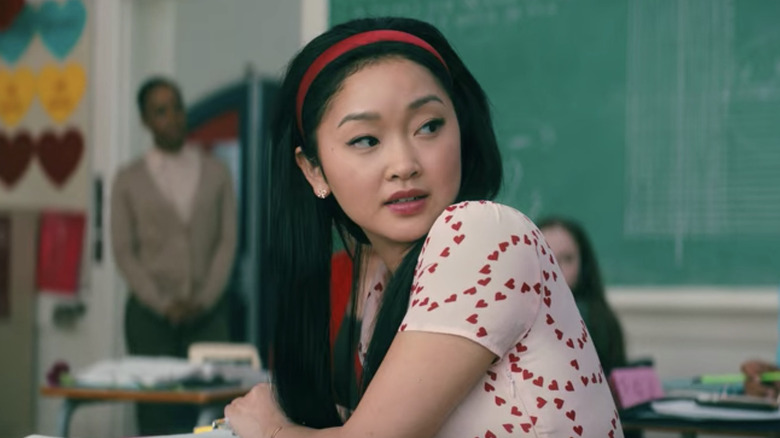 Leave it to Lara Jean to have the perfect, color-coordinated ensemble for Valentine's Day! In the second film, titled "To All The Boys I've Loved Before: P.S. I Still Love You," the true hopeless romantic steps out in an adorable heart-print dress, paired with a matching red headband and red heeled shoes, to celebrate her first Valentine's Day with her now-official boyfriend Peter. As costume designer Lorraine Carson revealed to Fashionista, the dress is a '40s style silk piece from HVN by Harley Viera Newton — while the perfectly matched shoes are red patent, chunky-heeled oxfords, which adds an edgy touch to Lara Jean's sweet and romantic outfit.
Needless to say, this pretty-in-red look is pretty much the perfect holiday-ready ensemble to celebrate the day of love — and also a truly iconic look for Lara Jean's and Peter's first Valentine's Day together.
The blue gown in the second film was Lara Jean's ultimate princess moment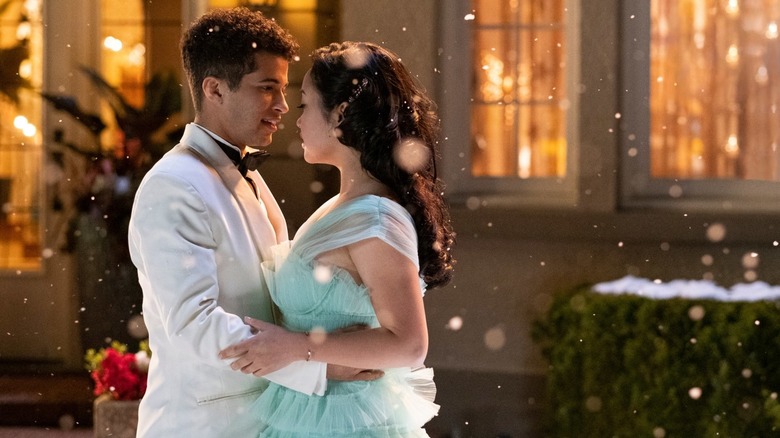 How could we ever forget this absolute showstopper of a dress? In "To All The Boys I've Loved Before: P.S. I Still Love You," Lara Jean attends the Star Ball in a stunning sea-foam tulle gown — and it's safe to say that all of our jaws dropped upon seeing the breathtaking dress. As Carson revealed to Fashionista, the gown is a look from the J. Mendel Spring 2019 runway collection, which the costume designer then reconfigured into a '50s-inspired and off-the-shoulder silhouette and paired with some ivory block heels. "When she walked down the stairs, it was magical," said Carson. "It was like a romantic fantasy silhouette and she was stunning."
With such a magical, romantic silhouette (not to mention that gorgeous color!), it's safe to say that this look from the film was an iconic princess moment for Lara Jean. In fact, it was even leading lady Lana Condor's favorite piece in the film, as she told ET in a 2020 interview. "That was the most magical dress because I felt like I could have a Cinderella moment in that," the actress said. "So I really enjoyed wearing that."
Lara Jean's style culminates in a gorgeous blue bridesmaid dress in the final film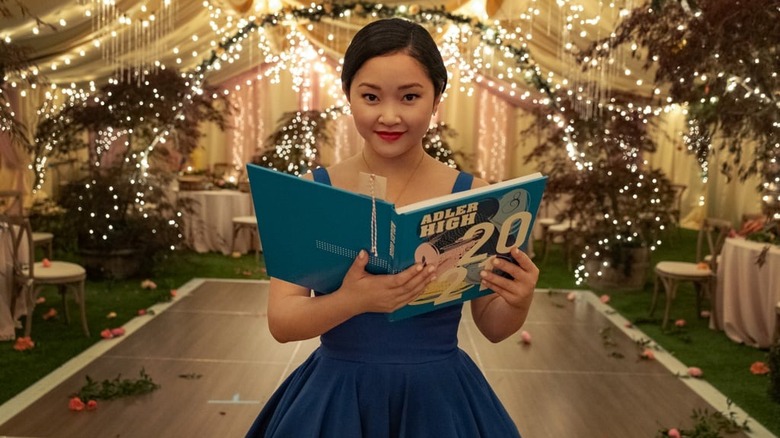 In the third and final film, "To All the Boys I've Loved Before: Always and Forever," we see the ongoing evolution of Lara Jean's effortless style as she steps out in a stunning blue dress for her father's backyard wedding — which Refinery29 identifies as a fit-and-flare satin dress from a prom dress line called Leena for MacDuggal. According to Carson, this memorable scene had Lara Jean and her two sisters all in a different shade of blue — including a deep shade of royal blue for Lara Jean herself, which showcased a slightly more mature look for the college-bound teen.
And as if this fashion moment isn't iconic enough, the look also combined the signature colors of "To All The Boys" — blue and pink — as Lara Jean accessorized the blue dress with a pair of pink stilettos (via Refinery29). Needless to say, this elegant look is one of the best fashion moments in the final film — not to mention, it's the perfect ensemble for the conclusion of Lara Jean's story (and her style evolution)!
Source: Read Full Article