There's no doubt that Outlander stars Caitriona Balfe and Sam Heughan share great on-screen chemistry, but the two are also good friends in real life. For his birthday, Balfe posted a message to Heughan and teased him in the funniest way.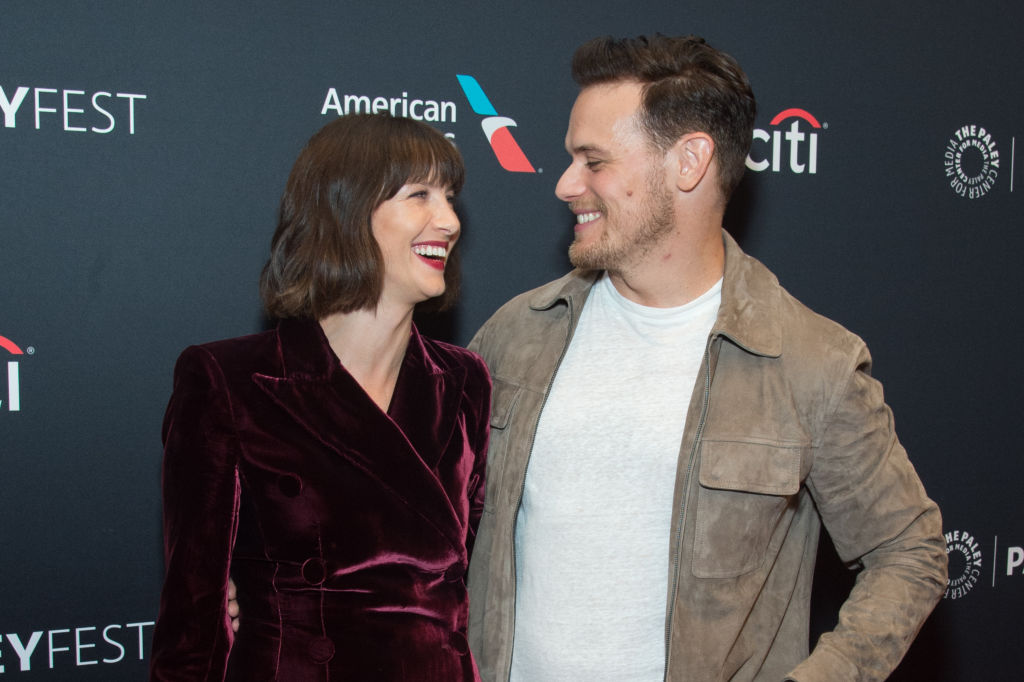 Balfe send her 'Outlander' co-star a message for his birthday
On April 30, Heughan turned 40. And along with receiving birthday wishes from his fans, the actor also received a hilarious message from his Outlander co-star. The two have been working together closely for six years, and their sweet repartee is apparent in Balfe's post. 
"Happy Birthday to this ridiculous human being," Balfe wrote in a tweet. "Hope you got the nose trimmer and Zimmer frame I sent you!!! Lots of love you're tele-wifie @SamHeughan  #Big4Oooh." 
Teasing Heughan about his age, Balfe mentioned a nose hair trimmer and a Zimmer frame. The latter is a four-legged walker for those who need help getting around. And obviously, the dashing hero that he is, Heughan doesn't need either. 
Balfe always supports Heughan 
Of course, Balfe's birthday post was in jest, but it proved that the two actors are actually pretty close outside of the show. Earlier this year, when Heughan posted a heartbreaking message about the years of online abuse he's faced, Balfe jumped in to take his side and support him. 
"Sad that Sam has had to come out and say all this," Balfe wrote in a Twitter post. "I would have thought mean bitchy behaviour would have been left in the school yard. But unfortunately, a VERY SMALL but very vocal part of this fandom use their energy to write and say awful untrue things."
Balfe also suggested that Heughan's bullies use their energy for good rather than hating him. "Maybe they should harness all that energy to get involved in their local charities," she added.  "And honestly it's quite simple … If you don't like us… it's a big beautiful world out there. Find something you do love and enjoy that. Life, as it's all too clear right now, is short. Why waste it hating."
Other 'Outlander' stars wish Heughan a Happy Birthday 
Like Balfe, a few of Heughan's other Outlander co-stars took to social media to tease the actor about his age. Sophie Skelton, who plays his daughter Brianna on the show, shared a picture of Heughan on Instagram and captioned it with a cute birthday message.
"Happy birthday @samheughan !!!!!!! you absolute jokester, and utter crazy legend," Skelton wrote in the post. "You deserve the most incredible day – So sorry we're not all there to celebrate with you as planned, BUT sending all the birthday love and wishes across the pond – And, well, here's to the big 3 0 !!!! Wait, No, add a few?? Joking, joking. You don't look a day over 50! Have the best day, HEUGHANNNNN. "
Richard Rankin, who plays Roger MacKenzie on the Starz series, also posted a hilarious birthday message to Heughan on Instagram. In the picture, Heughan is on set poking Skelton with a stick. 
"Happy Birthday @samheughan King of Men/Annoyer of Women," Rankin joked in his post. "A fine gentleman who takes himself far too seriously (not)! Hope you're having a great day and we can have a belated celebration soon! Give you all two guesses as to the outcome of this picture…" 
Source: Read Full Article