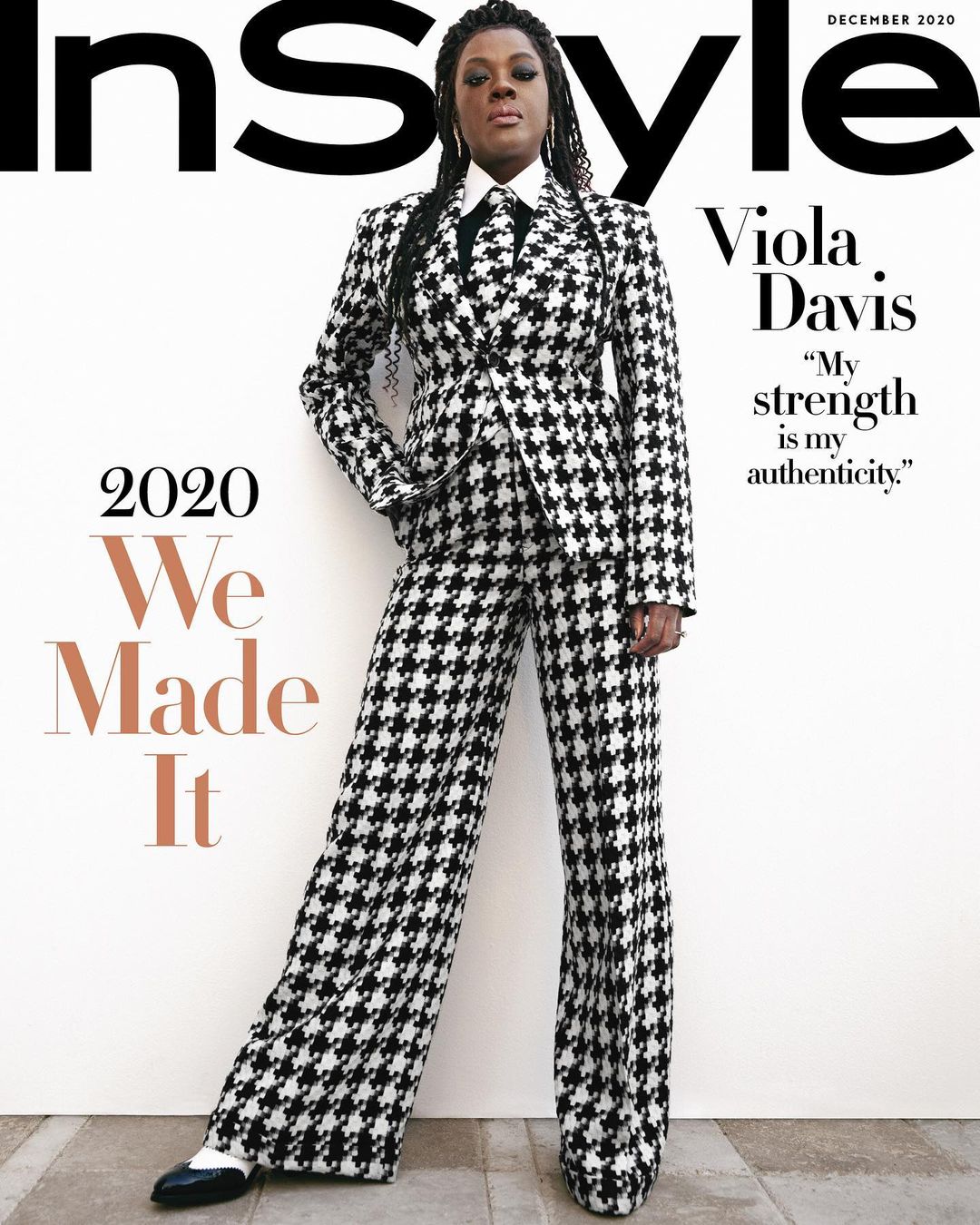 Viola Davis is starring in August Wilson's Ma Rainey's Black Bottom, which comes out December 4 on Netflix. Ma Rainey was also the last film Chadwick Boseman made before his death in August. It's about Georgian blues singer, Gertrude "Ma Rainey" Pridgett, known as the "mother of blues." Ma Rainey was arrested in 1925 for participating in an orgy at her home with her female chorus singers which was the subject of her 1928 song Prove It On Me.
Viola Davis is profiled in December's Instyle magazine where she discusses her role as Ma Rainey. She says the women in her family taught her body acceptance which enabled her to fully embody Ma Rainey's character. She also talks about being authentic and how her life has changed for the better since meeting her husband. Below are a few excerpts:
On playing Ma Rainey
Everything attracted me to Ma Rainey, especially the idea that I didn't feel I could play her. But she also really reminds me of the women I grew up with, all my aunties and relatives, the people who were bigger in stature whom I saw as so beautiful. They never questioned their worth. They had the full makeup, the earrings, the Afros, the wide-leg pants. In white American culture, the idea of classic beauty and confidence has always been associated with extreme thinness, but not in my culture. In the African-American culture, we are in command of our bodies. There's an unapologetic way that we approach clothing. Even in the way Ma Rainey's breasts were hanging out. At first I was like, "Should I pull my dress up and be more modest?" But I had to channel Ma, and she wouldn't do that. Neither did my relatives.

On being authentic
Um, I don't see the command. [laughs] Other people see it much more than I do. I will say that I think my greatest source of strength is my authenticity. If I try to channel some other being, I get lost. That's when my anxiety level goes up. Growing up in Central Falls [R.I.] as the only kinky-haired chocolate-brown girl, I always was trying to channel the girls who had the Farrah Fawcett look. It had disastrous results. So the only thing I can do is channel my authenticity. That is really a powerful tool because we spend our entire lives trying to get there. If you are projecting that, that's what people are attracted to.

On American trauma
I think that [lawyer and politician] Barbara Jordan said it best. She said, "What people want is simple. They want an America as good as its promise." And the bottom line is that it is a system that's been built on the dehumanization of Black and brown people. Everything from Jim Crow to the Black codes to incarceration to the millions and millions of lives lost in the Middle Passage. The trauma of that still reverberates to this day, and not just with the Black and brown people, but with the so-called oppressors, who are the white people. We all have been affected by the trauma. It's almost as if we have to relearn how to interact with each other. How to love each other. How to meet each other as equals. That's very difficult because our caste system is about one-upmanship. An American ideology and ethos that is based on whoever is on top gets the American Dream and whoever is on the bottom, who fails the test, does not. We have to dismantle that. If we are indeed woke and do not want another 2020 or 1965 or 1877 or 1865 to happen again, then we need to slowly begin dismantling this system. And then look into reparations.
[From Instyle]
Before I get into the meat of this interview I must acknowledge how Viola SERVED in the photos. I cannot believe this beautiful dark-skinned melanated goddess is 55. She just exudes vitality. There were a lot of nuggets Viola dropped in this interview. I agree with the interviewer that Viola COMMANDS. A few years ago when she cut all of her hair, went natural and colored her hair cinnamon, Viola owned the red carpet. Viola says she doesn't see herself as commanding but that her greatest source of strength is being authentic and perhaps that's what people are drawn to.
I also appreciate Viola's thoughts on how 400 years of racism and the dehumanization of black and brown people have traumatized us all, including white people. She said the American caste system is all about one-upmanship and the American ideology is based on whomever is on top gets the American Dream. That really hit home for me. In order for America to have a true equitable society we will need to deprogram 400 years of dehumanization disguised as "capitalism" that permeates all aspects of life.
My favorite era of history is the roaring 20s and I look forward to Ma Rainey's Black Bottom. I don't know much about Ma Rainey but I am sure Viola put on a heck of a performance. I love how Viola always pushes the envelope when it pertains to Black women's narratives. Ma Rainey will also give us an opportunity to see Chadwick Boseman's final curtain call. Perhaps then we will finally be able to let Chadwick go and let his legacy shine.
https://www.instagram.com/p/CHXz17cgTxw/
It's the suit for me.
https://www.instagram.com/p/CHX5enWA-kA/
In the #linkinbio Davis opens up about her upcoming role as Ma Rainey, the power of Black women, and working with #chadwickboseman in his final role. ♥️ 🎥 @bsmith_bs
photos credit: Instyle via Instagram and David Lee for Netflix via Netflix press
Source: Read Full Article