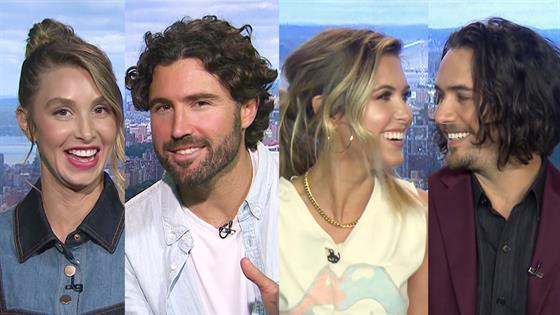 The rest is still unwritten…or it was until now.
14 years ago on May 31, Laguna Beach fans hopped in the passenger set of Lauren Conrad's black BMW to join her on her journey to The Hills, following the reality star as she lived, worked and played in Los Angeles. The hit show introduced us to Heidi Montag, Audrina Patridge and Whitney Port, and quickly became a pop culture phenomenon, covering every tabloid magazine and drawing some of the network's highest ratings.
Well over a decade later, lines from the series have lived on ("I want to forgive you and I want to forget you!"), .GIFs are still being used on the daily (Lauren's infamous mascara tear anyone?), and oh yeah, the show is back on the air with The Hills: New Beginnings (minus Lauren, of course).
But over the course of The Hills' original six seasons, fans wondered how much of the drama was actually real, with the cast members not being shy in interviews since the series' ended about dishing secrets on the show.
Here are 17 secrets you might not know about The Hills, including which storylines were really staged, which relationship the producers weren't fans of and more…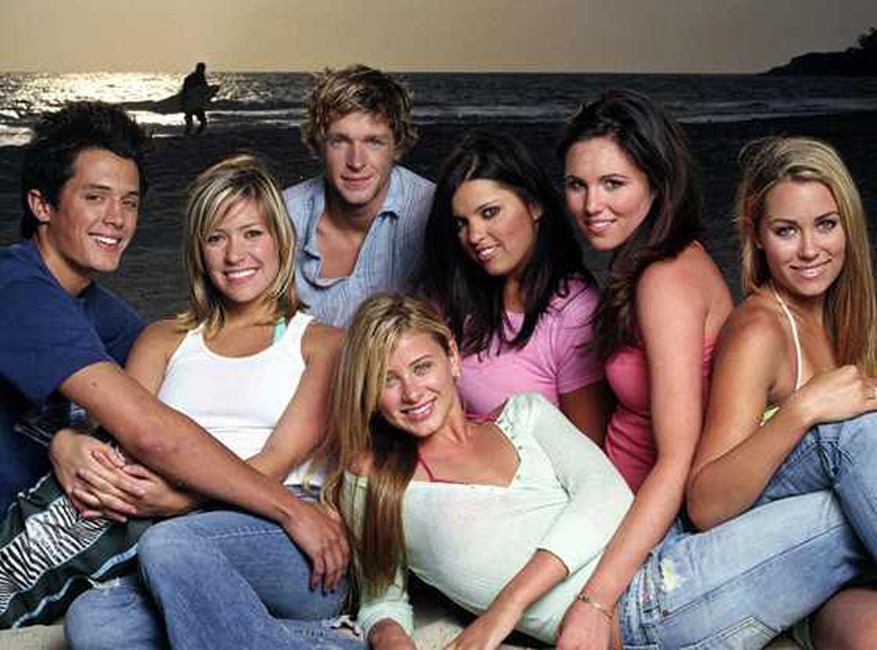 MTV
MTV Wasn't Sure Lauren Was a Leading Lady
6 million Instagram followers, multiple New York Times best-selling books and a lifestyle empire later, it's hard to imagine anyone ever doubted Lauren was a star. But the network did when DiVello initially pitched his idea for the Laguna Beach spinoff.
"A lot of people at MTV said, 'Wouldn't you want to follow Kristin? Wouldn't you want to follow Stephen? Are you sure you want to follow Lauren up to the hills?'" series creator Adam DiVello said on the Bachelor Party podcast, "Because they didn't know she was going to be the most outspoken–she certainly wasn't the most brazen character on Laguna Beach, but she was the one you connected with the most."
After convincing MTV, DiVello that had another task: getting Lauren's parents, whom he'd formed a relationship with during the two seasons of LB, to sign off on the idea.
"I said, 'You're going to fall down and you're going to get up 100 times in LA…we just want to be there when it happens, so let us come along.' I did that sell to the parents before I did it to her, because I met with them first," he explained. "I said, 'Look, I would really like your daughter to do this.' Just out of respect I did it…I sat with them and told them the story…Lauren came in the door 20 minutes later and we pitched it to her and I think she was really, really excited."
And the rest is still unwritten history.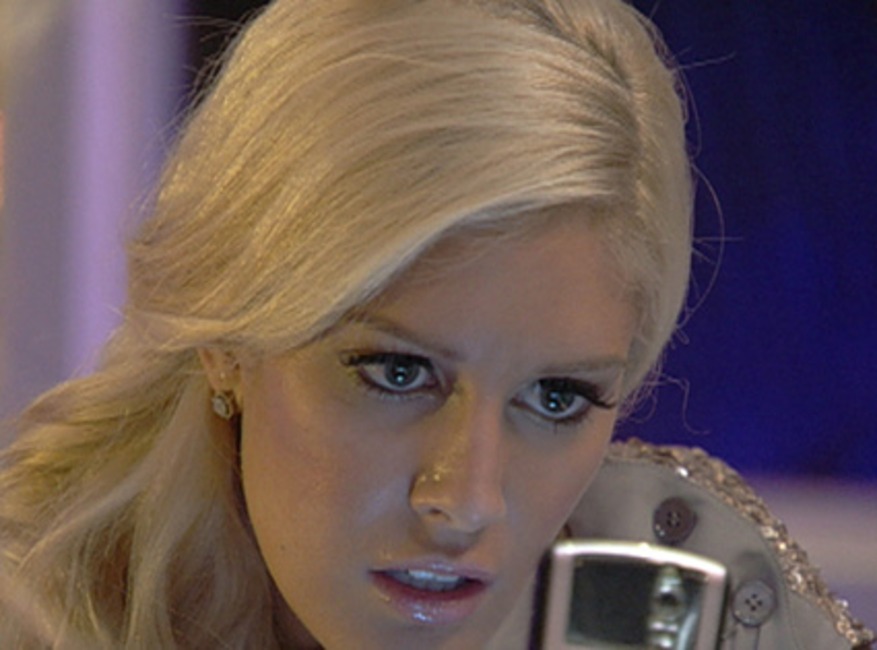 MTV
Lauren's Original Friendships Were Genuine
Heidi and Lauren's close friendship? 100 percent real as they met during Lauren's one semester at San Francisco's Academy of Art University. "She just walked up to me in class, said hello and offered to share a cab home," Lauren told Us Weekly of Heidi, who even made brief appearances during Laguna Beach's second season. "We immediately became friends."
Whitney, Lauren's co-intern-turned-confidant, was also a natural connection, as Lauren revealed to Us Weekly, "The shot of us waiting to go in for our interviews was actually when we met. I thought, Oh, if I had to pick one of us, I would pick her!"
Her fellow Teen Vogue fashion closet dweller had no idea they were filming a show, admitting, "I didn't know it was Lauren Conrad's spinoff show until I showed up for my interview and she walked in. I had watched Laguna Beach—I was a fan!"
And for Whitney, things were very real—at least at the start of the show.
"Way at the beginning it was very much like, we're going to put you in real scenarios and not really tell you what's going on, which is how I think they were able to get everybody to be themselves at first," she told Vogue. "Then you get to a certain point where things get boring, so the writers and producers had to start thinking about how to spice things up and make certain things more dramatic."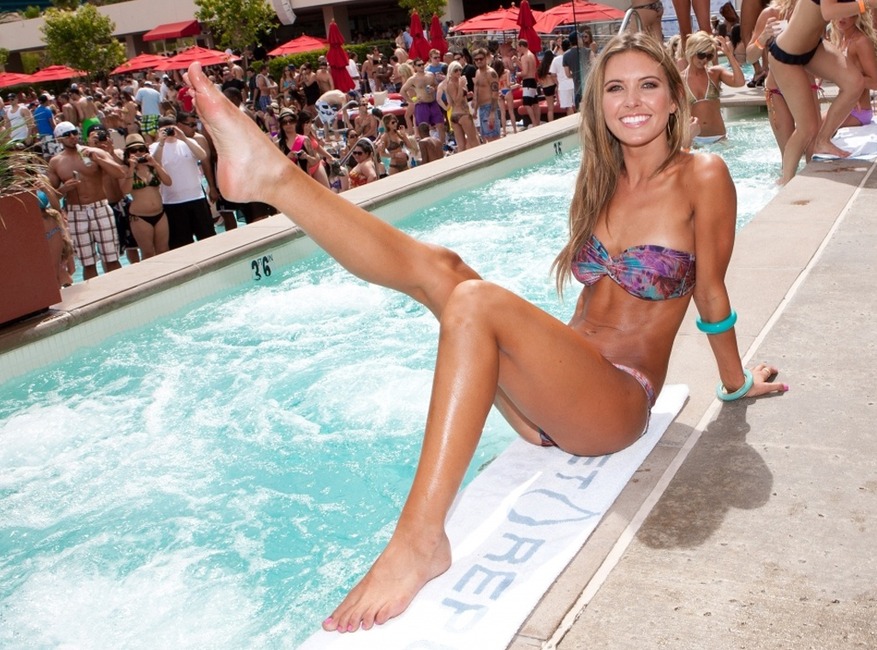 Courtesy of Erik Kabik/RETNA/Wet Repulic
One OG Star Was Cast
Well, scouted is the better word here, but Audrina casually swimming up to the girls at their apartment complex's pool in the premiere was no accident, as the producers had pegged their neighbor as a cast member weeks earlier. (The girls didn't know this at the time.)
"Adam DiVello told me I wasn't allowed to go to the pool for two weeks because they wanted us to meet on camera," Audrina spilled to Us Weekly. "I had to keep dodging the pool and lobby!"
Article continues below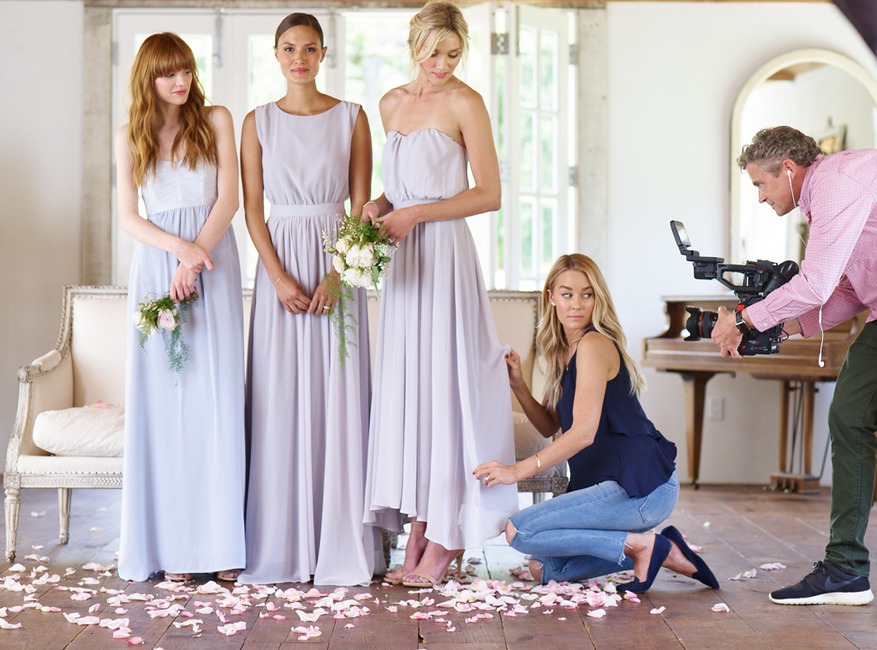 MTV
The Cast Wasn't Making A Lot of Money At First
Sure, their lives looked fun—filled with trips to L.A.'s hottest spots and laying by the pool—but Audrina admitted she had to ask her parents for money to pay her rent at one point as the filming schedule was impacting her real job.
"I was working full-time, but I had to take time off, and I wasn't getting paid. I was doing it all just for fun," she explained. "It got to the point where I was like, I'm borrowing money from my parents to pay my rent. I had to talk to the producers and tell them, "I'm either going to have to stop or you guys have to help me out."
In 2009, the Daily Beast reportedly got their hands on The Hills stars' salaries: At the show's peak, Lauren was netting $125,000 per ep, Audrina, Heidi and Lo Bosworth (a Laguna Beach alum who was made a main cast member later on) were pulling in $100,000, Spencer earned $65,000 per episode, with Brody taking in $45,000.
When she made her debut in 2009, Kristin was allegedly making $90,000.
"The money was the reason I did it. Producers gave me an offer I couldn't refuse," she told Us Weekly. "I'm glad I went back to [reality TV] because this time I looked at it strictly as a job, and I knew the character they wanted me to play."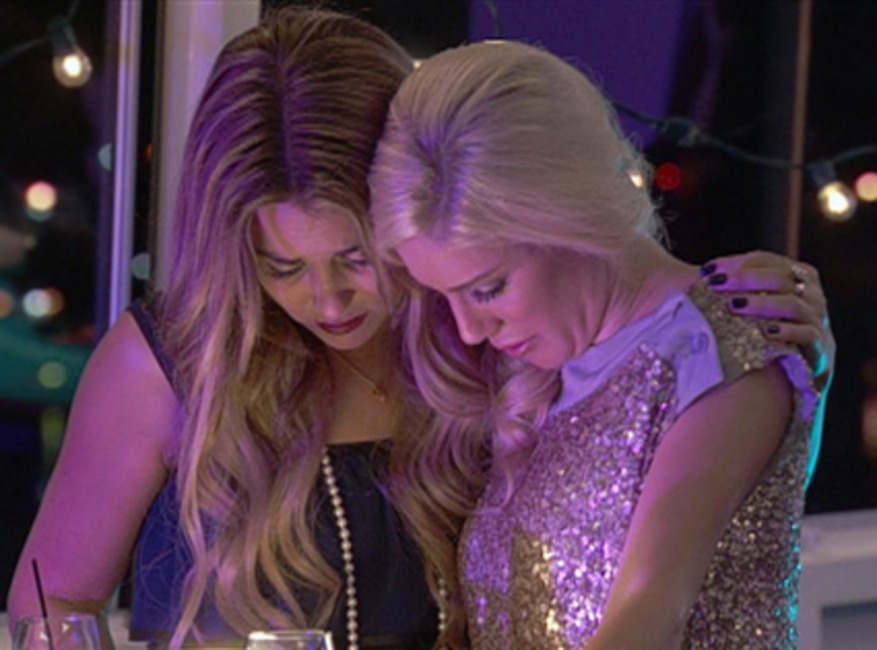 MTV
Lauren vs. Heidi was Very Real
Things were so bad between the women that MTV was forced to Photoshop cast promo shots. And when they did finally have to be photographed together for a 2008 Rolling Stone cover, along with Audrina and Whitney, they did not speak once during the nine hour shoot as MTV reps and DiVello nervously looked on, per the mag. "We were on good behavior," Lauren would describe the atmosphere later. "I mean, there's definitely bad energy between us, but I'm not angry…we're civil with each other."
Already fractured, Spencer starting the infamous sex tape rumor would be the final nail in the friendship coffin, causing the implosion of Lauren and Heidi's friendship and leading to the iconic "You know what you did!" line yelled into infamy in season three when Spencer and Heidi crashed a scene. "MTV should care what Spencer did to me. It's not okay that they let him up here," Lauren, who felt set up, would later tell a producer in behind the scenes footage aired by MTV during a special in 2016. "It's not f—king funny when you guys do that. I'm gonna go home now. I don't want to film in the same vicinity as them."
At the time, Heidi felt like the wronged party, being iced out by the rest of the cast. (Spencer would later take blame for the rumor.)
"We were such. Good. Friends," Heidi told Rolling Stone. "A part of me just wants to go up and be like, 'Hey, how are you?' But the other part of me is so mad…It's like I'm the odd man out."
Her other half (and the cause of their epic rift), however, clearly knew their feud was ratings gold, adding, "If Lauren and Heidi were friends, people wouldn't tune in."
While they sort of reached a truce on-camera when Heidi crashed Lauren's birthday on a boat, they never became friends again, with Lauren's final scene on The Hills being attending Heidi and Spencer's wedding after much deliberation.
"You just want to follow along. The hard part is there was a time when they would literally not speak to each other, which it's really difficult to make a TV show about people who just won't talk to one another," DiVello looked back on filming amidst the feud. "It's a lot of begging…sometimes if Heidi came to Lauren's birthday party and she's going to get on the boat, we don't have any control over that, let her get on the boat and if Lauren wants to accept her then she'll accept her. We certainly didn't pick sides in it, but we just told the story and went along with it."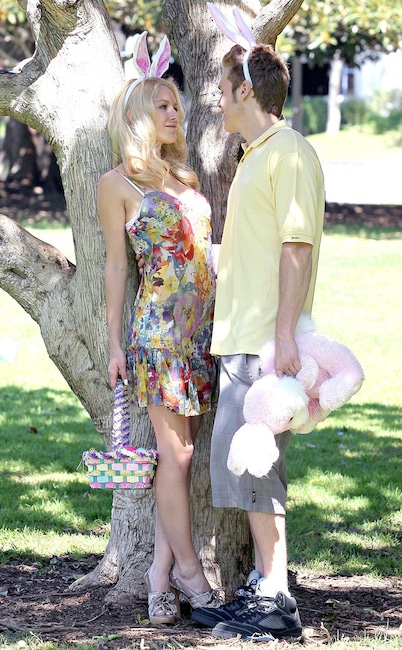 PacificCoastNews.com
Speidi's Rise and Fall and Rise
While successful from the start, The Hills didn't really become a full-blown pop culture phenomenon until season two, when Brody and Spencer made their debut, years after bringing 2005's Princes of Malibu to Fox. With an eye for creating drama, Spencer soon became one of reality TV's most infamous villains, a role he sought out and embraced, telling Vice, "I was treating the show like a producer because I literally just made a show on Fox…I didn't know how to be on-camera talent."
His rocky relationship with Heidi became one of the focal points of the series and they became tabloid fixtures, mostly because they set up their own shoots—some seasonally themed, some dramatic, all ridiculously over the top—making a ton of money in the process. "We were fame whores, getting literally a million plus a year in photos and being hated for it," Spencer says. "It's frustrating for me that people don't recognize that this was genius. This was innovating!"
But as ratings started declining, the couple's attempts to amp up the drama failed to spike the viewership—and compete with MTV's new spray-tanned golden child, Jersey Shore—and the rise of social media making their staged photo shoots basically worthless, Speidi's reign as reality TV's power couple was coming to an end.
As Spencer memorable put it in their 2016 Vice profile, "[The Hills getting cancelled] was our 9/11." They attempted to sell a spinoff to MTV, but it didn't go forward.
Alas, there is a happy ending: Defying the odds, Spencer and Heidi are still married and welcomed their first child, Gunner, in 2017; they also found reality TV fame once again in the UK, and now, will fully be part of the gang in The Hills: New Beginnings. (Um, maybe aside from Spencer's sister Stephanie Pratt though, as the couple is in a bitter public feud with their family member/co-star.)
In 2017, Spencer admitted his worst phase was during The Hills, explaining to Vice, "It wasn't true to who I really was. I got caught up trying to be someone I'm not…someone that the audience and the producers wanted. I was just being more and more unnatural."
Article continues below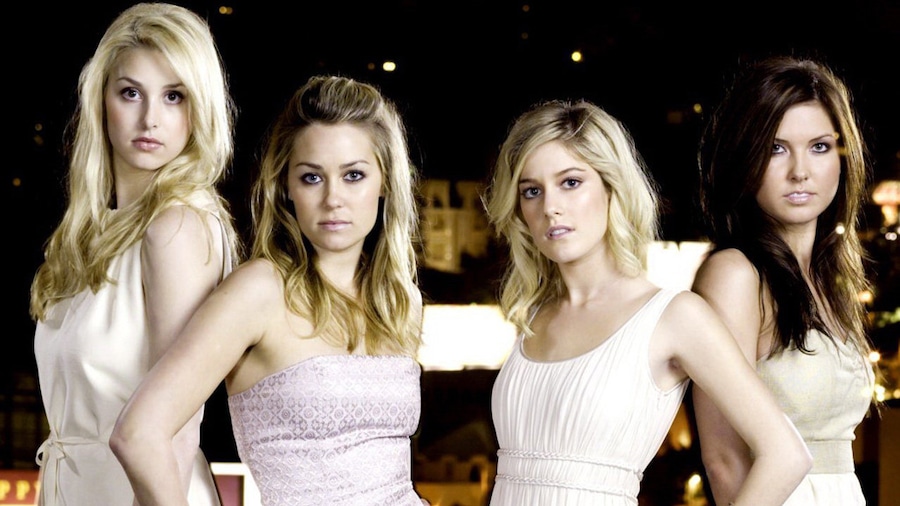 MTV
Using the Tabloids As a Tool
At the height of its popularity, especially during the apex of the Lauren vs. Heidi showdown, it seemed like the stars of The Hills were on the front cover of tabloids each and every week, with details about their personal lives spilling out well in advance of the episodes airing.
While production initially saw this as problem, they ended up using it to their advantage, looking at it as free promotion, DiVello revealed on Bachelor Party.
"We all had to sit around and have many meetings about this because what was happening was is they were on the cover of Us Weekly and they were telling the stories before we could tell them," he said, "what happened…for us, what we realized was that wasn't really a bad thing. It was kind of a tool, it was little commercial on the cover of a magazine every week for what's coming up in the episodes."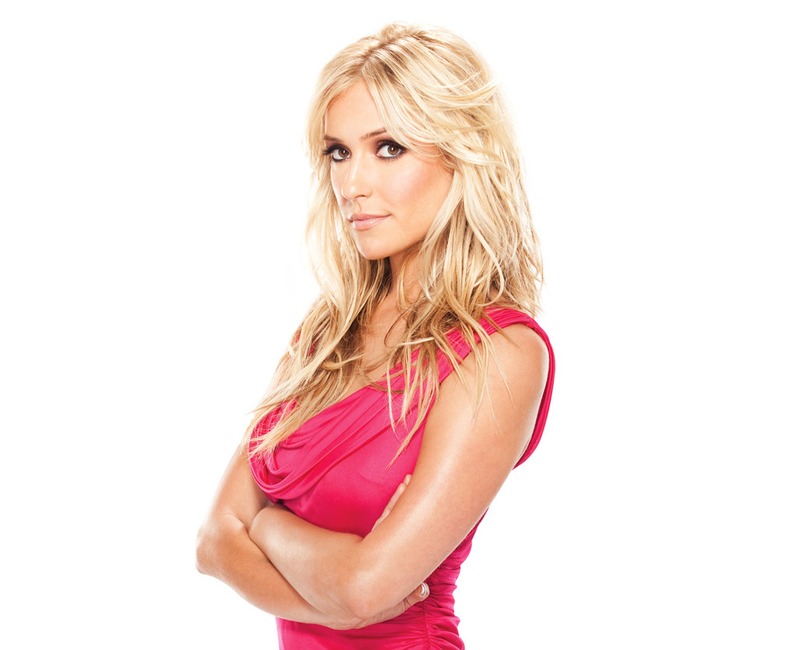 Miranda Penn Turi/MTV
The B–ch Is Back
So long, LC. Hello, Kristin!
After Lauren decided she was done with The Hills, producers decided to shake up the show by bringing in her former Laguna Beach rival as the new lead.
"It made sense that Kristin came along, because season 1 of Laguna was more about Lauren, and season 2 was more about Kristin," DiVello told Refinery29 of bringing Kristin in midway through season five. "It was nice that we got to have Kristin on The Hills for the last two seasons."
And their new star knew exactly why she was there: "I faked relationships, faked fights. I don't care anymore—I can tell you. At this point, it's been so many years," she said in 2013. (See: her showmance with Justin Bobby.)
In an interview with Buzzfeed, the E! reality star continued, "I knew sort of this character that they wanted me to play. When I decided to come on board, I made a decision and I was like, 'OK, this is my job and I'm going to separate my Hills life from my real life.'"
To bring Kristin back into the mix with a bang, they decided to have her make her debut at Heidi and Spencer's wedding, and didn't tell Lauren what was going on.
"We knew as producers that when Lauren sees her, that's going to be a great moment," Scott said. "We better have a camera on her close-up." DiVello added in an Us Weekly interview, "We had Lauren in one room, Kristin in another. We didn't want Lauren to see Kristin until we were on camera."
Lauren, who was running late to another event, was annoyed to be kept at the wedding later than expected. "I think it was two hours later when the wedding actually took place. When Kristin showed up, I thought, Oh, this makes sense," she told Us Weekly. "This is sort of the passing of the baton. I sat through the wedding and then I walked out the side doors. That's why in the final scene I'm not leaving with everyone else."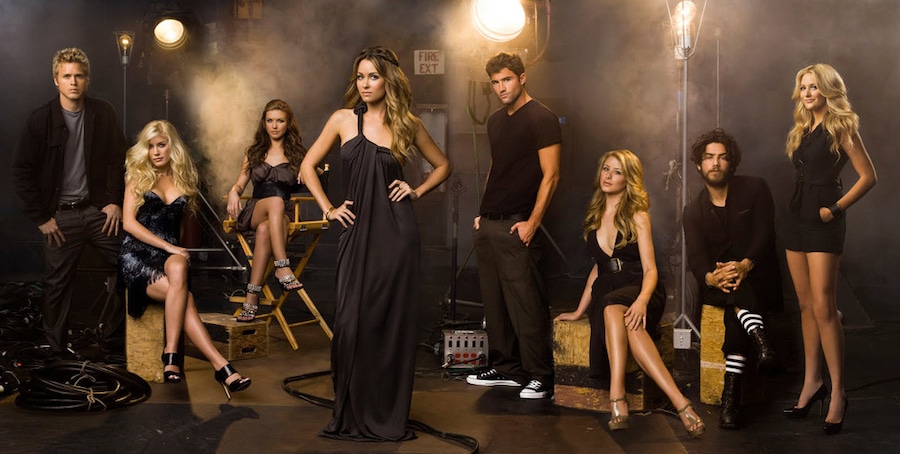 MTV
So Was Any of It Real?
As the seasons progressed, viewers often expressed doubts about just how real this reality show was. And it really depends on who you ask when it comes to a clear answer.
According to the producers, they believed most of what they shot was real when it came to the relationships, friendships, fights and what not. It was just sometimes not caught on camera initially.
"We've been very open about the fact that we've reshot scenes that we missed," DiVello told Refinery29. "[If] stuff happens off camera, or stuff happens on the weekends, or when we weren't shooting, we would go back and get it on camera. So, if Audrina heard that Justin Bobby was off doing something that she ain't happy with, we'd have her sit down and tell Lauren about it, just so that we have it on camera. But it really happened. It wasn't like we wrote it."
The producers decided to wink at the endless speculation over how real the shoe was in the series finale, making the bold decision to have the final scene end with the reveal that they are on a sound stage. After DiVello pitched the idea, MTV loved it.
"I thought it was such a cool idea because we were dealing with so many people saying, 'Is [the show] real? Is it not?'" former MTV president Tony DiSanto told Refinery29. "Ultimately, for me it didn't matter at that point because it was just like, people were into the stories and these kids and this world. I thought ending it in that way would be such a funny, cool way to wrap it up in a fun, meta kind of way."
But after the series ended, many of the cast members have been vocal about how fake the storylines had become in later seasons, especially Kristin and Heidi and Spencer.
Article continues below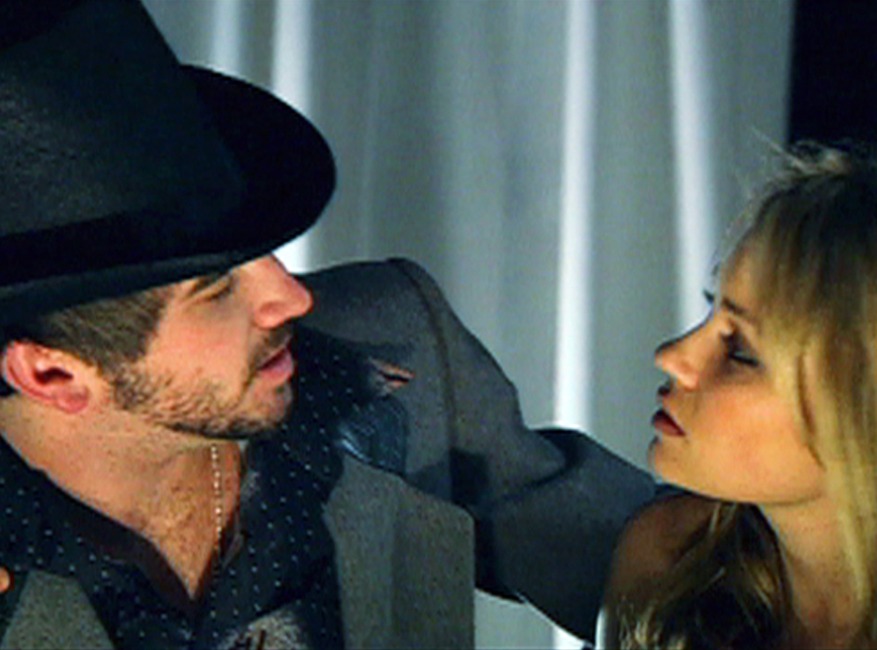 MTV
Production Hated Lauren and Jason Together
Oh, Lauren. Every fan of The Hills knew how hard it was to see Lauren back-slide and get back together with the Laguna Beach bad boy who cheated on her in the original show's second season. And every fan still cringes thinking of Lauren choosing to stay with Jason in California over spending a summer in Paris with Teen Vogue.
"Even production didn't want me to date him! They were like, 'You're in a new city. Go meet a new guy!' Then they were very upset with me for not going to Paris—they were ready to fly a whole crew. I would get daily phone calls from Adam saying, 'You have to go!'"
Being 19 and in love, Lauren, of course, chose Jason, though she admitted, "Honestly, yes, [my decision] did have to do with the relationship, but I was also just at that point where I needed a break from filming.
Alas, they broke up two weeks later, making the sting of being dubbed "the girl who didn't go to Paris" even more ruthless.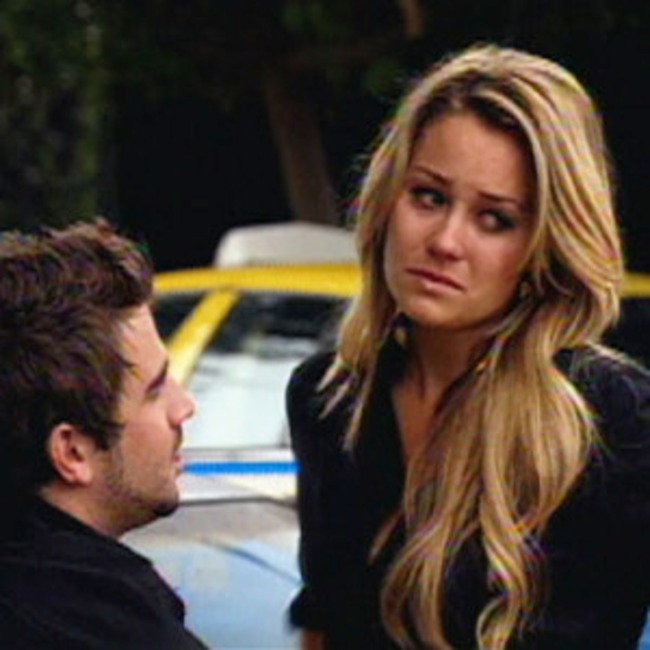 MTV
Never-Aired Heartbreaking Truths
During MTV's 2016 special about the show, they revealed never-before-seen footage of how serious Jason's substance abuse issues were at the time (he would later enter rehab and seek treatment, appearing on Celebrity Rehab with Dr. Drew).
In a post-break up scene, Lauren realizes Jason isn't sober, and he gets defensive, denying it while saying, "It's 10 o'clock in the morning! It's like, yeah, a freckle past a hair." Lauren doesn't back down, saying, "You're not normal right now, what is wrong with you?"
When Lauren then says, "I just feel like you're f—ked up and it's my fault," Jason looks towards the cameras before saying, "Don't say this right now."
10 years later, Lauren still got emotional thinking about that time, explaining, "That really broke me, because I felt like a responsibility to take care of him, and I felt like when we broke up I was abandoning him."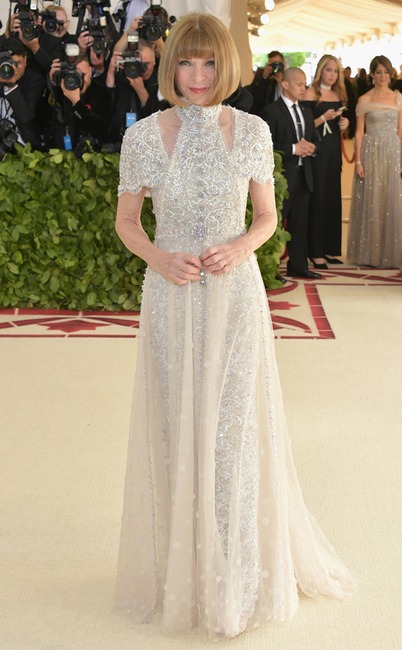 Neilson Barnard/Getty Images
Anna Wintour Actually Coined One of the Most Iconic Lines
"She'll always be known as the girl who didn't go to Paris."
Just thinking of Lauren's Teen Vogue boss Lisa Love saying that in the season two premiere can cause chills…but it gets even better when you learn that the person who actually said it first was Vogue EIC Anna Wintour.
"Anna asked me what happened with 'the girl who didn't go to Paris,' and the next time I saw Lauren, I just said it," Love told Vogue in 2019. "The writers ran with it."
Article continues below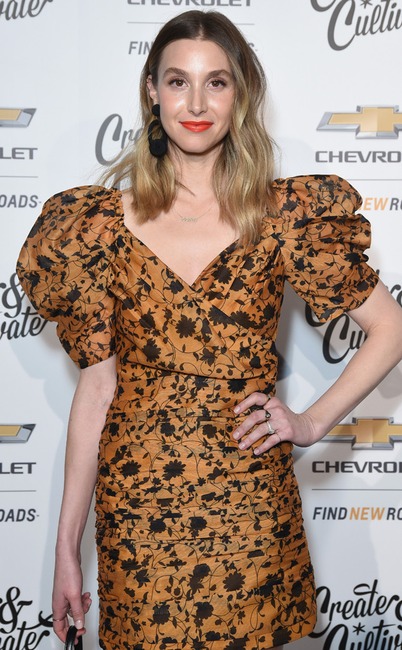 Presley Ann/Getty Images for Create & Cultivate
They Never Had Paris
Plot twist: The trip to Paris never even happened, as Whitney dropped a major bombshell in her interview with Vogue about the season one finale scene in which she is seen saying goodbye to her boss, Lisa Love, at the airport as she departs for a summer working in Paris, seizing the opportunity Lauren passed on.
"That was so ridiculous," Port said. "It wasn't an ideal situation, but I thought, OK, this is good for me because I really was pursuing a career in fashion. I thought it showed that I was down and determined to do this. It was very Anne Hathaway as Andy Sachs [from The Devil Wears Prada]."
Except all she got was a trip to the airport to film the scene, only to go back home right after. "I got dressed up in an airport look and went for it."
Quelle tragique!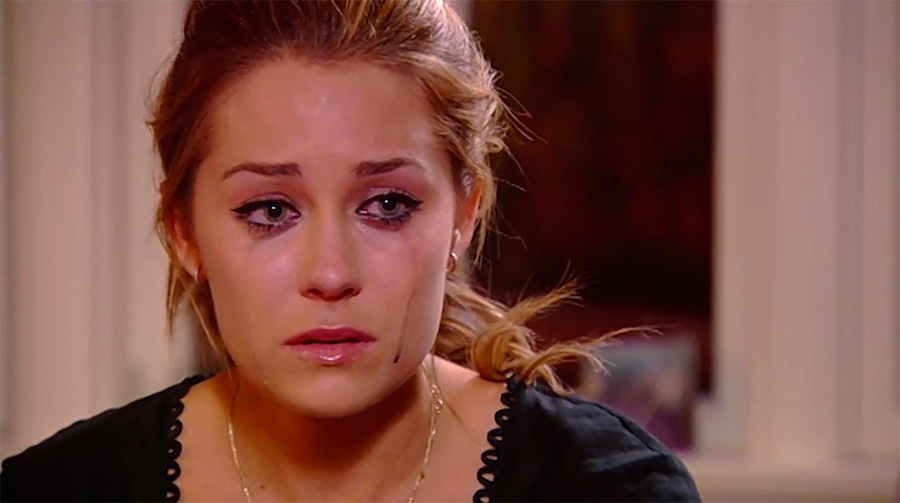 MTV
The Single Black Tear Exposed
If one moment lives on from The Hills, it's Lauren crying a perfect single black tear, while beautifully ran down her cheek, during an emotional fight with Audrina; it became one of the Internet's most-used .GIFs and is still referenced years later.
But Lauren has dispelled a few rumors about the iconic moment over the years, like when she revealed to MTV News it wasn't mascara staining her cheeks. "I don't think it was the mascara. I think it was the eyeliner that was running. I still wear the same mascara, and it doesn't run like that."
Oh, and she then casually told Cosmopolitan, "You know that they slowed it down in the show right? I asked my producer and he told me they put it in slow motion to give it a more dramatic effect."
Alas, executive producer Sean Travis clarified the shocking revelation, telling Refinery29, "I think it might have been slowed down in the trailer, but not in the show. It would be a little strange in the episode when we're supposed to be in a kind of real-time scene for [the tear] to slow down."
As for DiVello, he knew as soon as he watched the footage that they had struck gold.
"You're watching little monitors, and when you get that like black eyeliner roll, you're just like, 'Damn, this is so great,'" he said.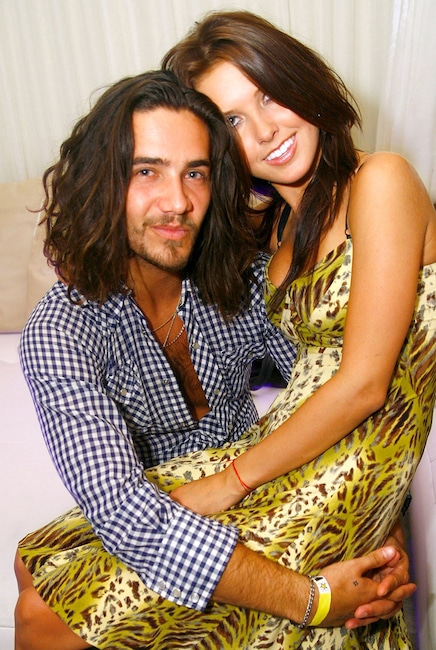 Chris Weeks/WireImage.com
Homeboy Wore Combat Boots to the Beach
How to explain Justin Bobby aka Justin "Bobby" Brescia, Audrina's main love interest on The Hills who clearly hated being on camera but was a natural, thanks to his infamous nickname, attire, and random quotes, like, "Truth and time tells all."
"Justin Bobby was dating Audrina for a little while before we got him to agree to go on camera," DiVello said. "We just had to kind of ignore him for a little while until he turned out and as soon as he walked into that room for the first time and met Lauren and Lo, L came up with the nickname…which was great. It was just Lo breaking balls."
(According to Audrina, it went down like this: "I was like, 'His name is Justin, but if he's going to film, he wants to be known as Bobby.' Lauren and Lo were like, 'What, Justin Bobby?' and the name stuck forever.")
Getting Justin Bobby to film proved challenging, with Travis explaining to Refinery29, "He was so unwilling to shoot. It was very hard. He would give us so little of his time, and I think that there aren't any shoots we did with Justin Bobby that didn't make it to air. I think every single scene we shot with him is on television."
According to the man himself, he told Us Weekly, "At the time I was a hairdresser for Maroon 5. It came down to them going, 'Whatever you make, we'll triple it.' Audrina and I were friends. [The relationship] was more for the show. The people they were making her go on dates with weren't really up to her speed, and she hadn't been feeling it."
Back in 2008, Audrina admitted to Rolling Stone she started dating Justin Bobby earlier than normal because of the show, explaining, "Because it's for TV, you push yourself to do things that you normally wouldn't…like me and [Justin Bobby] being girlfriend and boyfriend right away. I would have waited."
Article continues below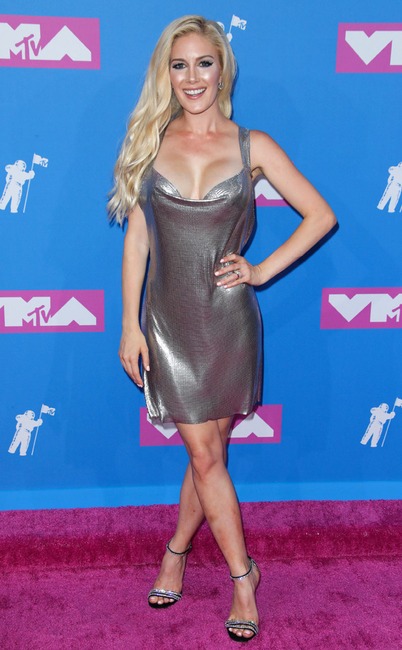 Matt Baron/REX/Shutterstock
New Season, New Heidi
After getting a nose job and boob job earlier in the show's run, fans were shocked when Heidi underwent 10 cosmetic procedures in one day in late 2009 ahead of what would eventually be the final season. Just as shocked were the producers, who had to come up with an idea to work the surgeries into the show.
"She did that over a break. We were on Christmas break I think, so we were down and then we had heard she has done it and then we scrambled to get the mom's reaction," DiVello explained of the infamous scene of Heidi's mom reacting to her new look for the first time. "To us that was the next thing we wanted to see, what does her family think? What do her friends think?"
Well, it was riveting TV.
"Are you telling me you don't think I look good?" Heidi asked. "Maybe you should rephrase the question," her mom Darlene responded.
Looking back on the original run of the show, Heidi revealed the scene with her mom is "the hardest" for her to rewatch.
"It was really challenging and I was in so much pain, I could hardly talk," she shared in a new feature for Vogue. "I was so young and I just didn't, like, have a team behind me."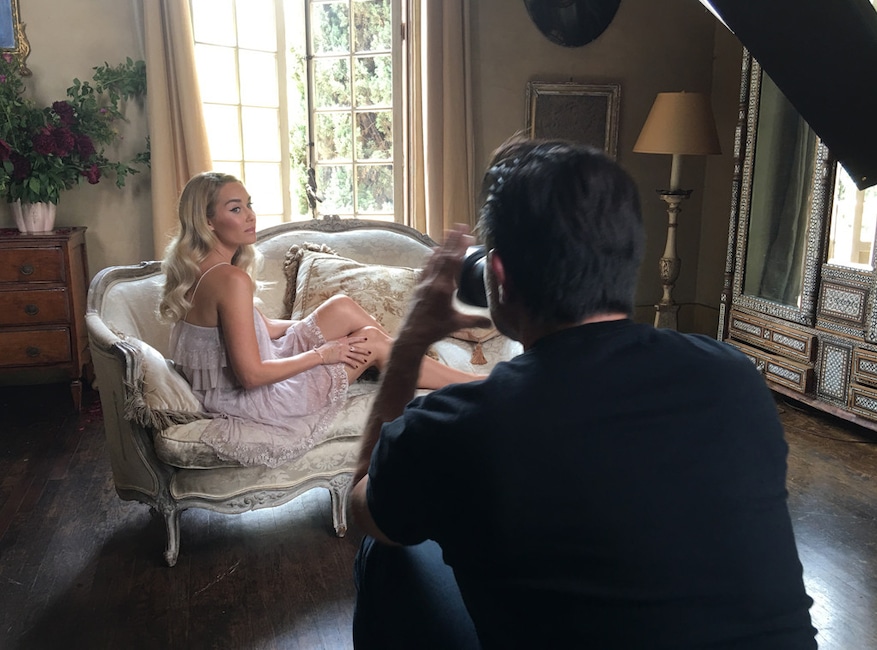 MTV
Alternate Ending
MTV surprised fans when they were re-aired the series finale of The Hills in 2013…with an alternate ending featuring the return of Lauren. WTF?!
"It's something I always wanted for the finale, and it just took a lot of persuading," DiVello said of getting his original star to come back. "Calling and calling and calling and calling. I was relentless and I bugged MTV until they gave in."
The scene featured Brody returning to his apartment after saying goodbye to Kristin to a waiting Lauren, who was referred to as his girlfriend earlier. After Brody tells her he had to say goodbye to an old friend, Lauren knowingly responds, "It's hard to say goodbye."
So why didn't they ultimately use this ending? Well, if it was DiVello's choice, they would have.
"I handed in two finales…none of us knew which one they were going to pick," he told EW. "it was out of my hands. I'm really proud of both versions, but I think we were all waiting for it to come on the screen and I think even Lauren was surprised when they decided to go with the other one."
For DiVello, it just felt right that the show would end on a smiling Lauren after viewers had watched her journey over the years (even if she left the series midway through season five).
"I pushed a lot to air it," he said. "I really liked the one with Lauren. It was her story that I started the show with and followed her with Laguna Beach. I always wanted to end it on her face and her being happy."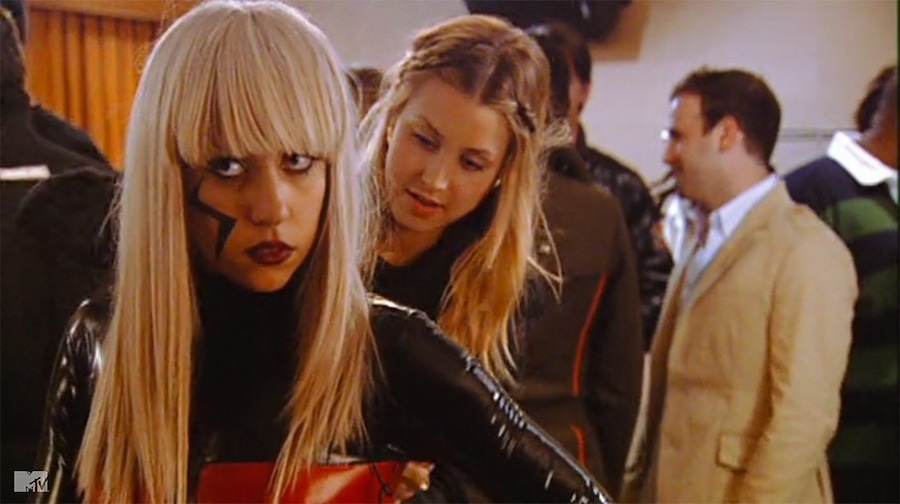 MTV
Lady Gaga Was on the Show By Accident
Before she was one of the biggest stars in the world, Lady Gaga was just an annoyed performer with a broken zipper in a scene on The Hills in 2008.
"We didn't even know who she was. We were like, 'What are we filming? What is this?'" DiVello explained on Bachelor Party. We were just there, we didn't really know what we were doing. Kelly Cutrone introduced us to her…and at the time, we were like, 'Who is this girl?'"
Also clueless about who Lady Gaga was at the time were Lauren and Whitney, who were tasked with helping the performer after a wardrobe snafu as they were working at People's Revolution, the PR company putting on the event.
Even the girls were like, 'Are we filming all night with her?' Because she was performing a couple of songs at the thing," DiVello said. "The fact that the dress broke was great and they fixed her dress was kind of perfect."
Article continues below
The Hills is available to stream on Hulu.
Source: Read Full Article