"I don't need to be talking about things that happened decades ago," says the singer.
Christina Aguilera spoke about what it was like being a female pop star back in the 2000s during a new interview on the Call Her Daddy podcast — telling host Alex Cooper she won't be "baited" into anymore conflict with her contemporaries.
While no other singers were brought up by name during the interview, Aguilera was often compared to and pitted against fellow former "Mickey Mouse Club" alum Britney Spears — something they, at times, played into.
It's also no secret Aguilera and P!nk didn't always get along either. Recently, the latter brought up their past drama by confirming their "personalities did not mix at all" during an appearance on "Who's Talking to Chris Wallace?" She was also accused of shading Christina while speaking with Buzzfeed UK, by saying "Lady Marmalade" wasn't fun to make due to "some personalities" on set.
P!nk but later clarified the pair have put all differences behind them in the many years since — while Aguilera kept quiet throughout all the recent headlines. In what could be read as a possible response to all the hoopla, Aguilera told Cooper she's not interested in reliving the past.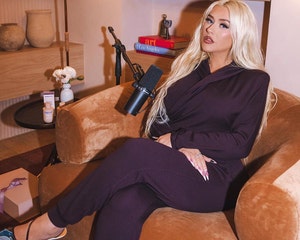 Christina Aguilera Details Sex Life on Call Her Daddy Podcast: 'No Shame In the Game'
"We're able to have these open conversations now. Now I see women more than ever talking to each other and it's okay and so accessible with our phones, social media, that's the positive of it, we get to have more accessibility to each other," said Aguilera. "I didn't have that back then, it was very hard and very terrifying and I took so much personal. You're so used to creating creating walls and defensive mechanisms because people are baiting you and you're like, 'Wait, I didn't say that,' and, 'I didn't say it like that.'"
She told Cooper that it was sad and hurtful to see how "some press and articles and interviews that were just so taken out of context" would make her feel, before noting how different it was for women 20 years ago.
"Back then there was a lot of, it was a different business where there was a lot of female comparisons and double standards with women and it was a constant pitting against each other and it just felt like punches in the face. It's f—in g hard," said Aguilera. "It was hard to just constantly feel like you're making music and something you love and then someone's spinning something so negative about it."
"It was really hard because sometimes who you were pitting against, you genuinely loved and respected," she continued. "But again, then you had people baiting you, [asking] 'Do you know what she said about you?' and you're too much of a kid to understand what's happening. I hated that s—. That's why I'm excited to see women supporting women, you're cutting through the middle man."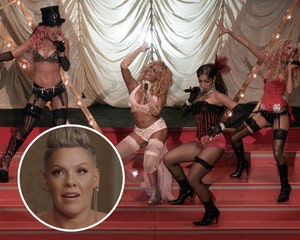 P!nk Denies 'Shading' Christina Aguilera with Lady Marmalade Comments
Toward the end of the interview, Cooper asked her if there was anything she wanted to "share with the world that you feel people don't know about your or misunderstand." Aguilera clearly wanted to circle back to the topic at hand.
"I grew up in a time again when there was a lot of negativity that was just always trying to be poked. I'm also, I … I have no time for negativity. I've been in the business long enough to know, I just want none of it anymore, to be part of the headline," she explained. "It's something as a grown woman you can have more control over. I don't like getting poked under the table, because then the claws come out."
"We're in an elevated time in all of our lives where we're all more open and talking to each other and I want peaceful energy, peaceful vibes. I don't need to be talking about things that happened decades ago," she continued. "Let's grow up, let's embrace. Now more than ever is the time for that."
"I'm not gonna be baited anymore. It happened for a long time too. This happened even after I had my babies," she added. "A lot of people, because they need some attention too, I'll get poked under the table. Don't poke me too much."
While Aguilera said she is "sensitive and all that," she added she's also a "tough cookie" who doesn't "give a f—." She concluded, "This is why I don't have time for the petty bulls—t, the celebrity status stuff. I want to live a good life and a loving life."
Watch the full interview below:
Source: Read Full Article