By this point, we get it: Quarantine cooking slash baking is officially a "thing."
I see y'all out there (virtually, on Insta) putting the finishing touches on your Alison Roman lemon tumeric tea cakes while your Maggie Rogers playlist complements your ~vibe~ in the background. I applaud you! But for me, quarantine cookin' looks a littledifferent. Some may say…sexier, even.
Guys, Freddie Prinze Jr. has a cookbook.
Yes, FPJ, token hot-popular-boi from '90s (and early 2000s!) teen movies: She's All That. I Know What You Did Last Summer. Summer Catch. You may have recently been blessed with his "Manny the Nanny" cameo in your Friends bingeing. But guys, this cookbook's existence is not *Phoebe Buffay voice* "brand new information."
Back to the Kitchen was released in 2016 and served as Freddie's v first Instagram post. Peep the shoutout to his wife and fellow '90s (and early 2000s!) teen heartthrob, Sarah Michelle Gellar. (Did I mention she wrote the forward to his cookbook? This is what dreams are made of, y'all.)
Never had I felt that someone understood my ~brand~ more than when my gal pals gifted me this cookbook for my birthday a few years back. Like most millennial ladies, I'd swooned over FPJ at the peak of his teen-movie stardom. But, when I was in college, I re-fell in love with Summer Catch (also starring Jessica Biel). I really felt like it wasn't (isn't) talked about enough and also wondered what he was up to? So, I would try to slide into his mentions with coy little nods to the film to try to get him to talk about the flick slash his teen movie days. Not to brag or anything, but I succeeded *several* times:
https://www.instagram.com/p/BECoR_OsWv-/
Anywho, this 200-page cookbook has been sitting on my shelf untouched for the past four-or-so years.
Why? Well, I should mention I'm a pretttty shitty cook.
My dinners usually consist of some variation of rice and vegetables. I very recently Googled "how to boil an egg." I've had my fair share of Pinterest fails, which I might argue make even better social media content than, say, a perfectly-baked loaf of bread.
I'd tried some recipes from Chrissy Teigen's Cravings cookbook in the past and very much crashed and burned—literally. I was afraid of tainting my experience with Back to the Kitchen (and Freddie) by inevitably fucking up a recipe and then chucking poor FPJ across the room.
But, being at home during this national pandemic has paved the way for me to get back to my kitchen (sorry, had to) and crack this bad boy open.
I think I had assumed Freddie Prinze Jr. entered the cookbook game because every other celeb and their mom has one. WRONG. He legit has a cooking background. He grew up cooking with his Italian mama, plucking fresh herbs from their backyard garden in New Mexico.
And when Freddie left the nest to pursue his acting career in Cali, his momz encouraged him to lean on cooking as his backup plan because he'd "never go hungry." *Cue all the tears.* But just as he was all amped up to attend Pasadena's Le Cordon Bleu College of Culinary Arts, he scored his first acting gig.
I'm sorry, but can we take a sec and praise the Hollywood gods that we do not have to live in a world that doesn't get to experience FPJ on our screens?! Can you imagine if the world's only exposure to this man was a select few of us catching a glimpse of him betwixt the cracks of a swinging restaurant kitchen door? I, for one, cannot.
I also want to call out that Back to the Kitchen's description is: "75 Delicious, Real Recipes (& True Stories) from a Food-Obsessed Actor." Meaning, there's hella content in here, friends. Get ready to see the extent to which FPJ has truly become a real-life DILF of Disneyland and Silver Fox. Throughout the cookbook, he gushes about Sarah Michelle Gellar and his two kiddos Charlie and Rocky. He talks about which recipes are their favorites, daddy-daughter bonding experiences—you know, the kind of stuff that makes your ovaries hurt.
Okay, I will admit: Great as this cookbook is, I have encountered several recipe fails whilst working my way through it.

Not because of the difficulty of the recipes, but, because this is *actual* non-microwavable-Trader-Joe's food. You need kitchen supplies. (I am not the norm. You likely have them because you're a normal functional human!)
For me, these are kitchen supplies that my parents always had but I never thought were fun to buy when getting kitchen shit at Target for my apartment. (Candles. I was buying all the candles.)
This ~experience~ has led to a couple o' thoughts for me:
I realized these gaps too late in the game for some recipes, and due to the current environment, some kitchen supplies I hoped would be at my doorstep via Amazon Prime ASAP are actually considered non-essential (which, fair), so they'll be here in like a month.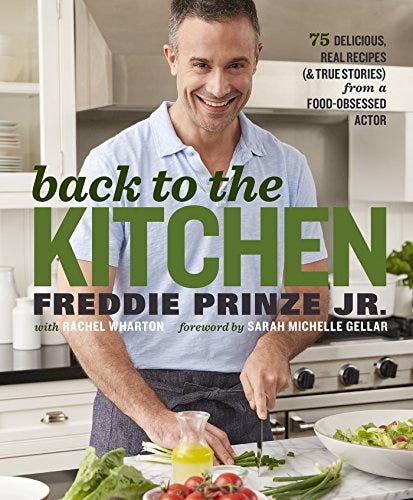 I have enjoyed making "The Rocks Cinnamon Pancakes," AKA his son's fave breakfast. They're little cinnamon joy-cakes! And, it turns out using challah bread and more than one type of cheese makes for a mean "Fancy Grilled Cheese" sammie. AND rosemary makes a delightful lil' spice for stovetop potatoes? (Who knew?!)
So, consider this my invitation to use this worldwide nightmare as an opportunity to go "back to the kitchen" with a side of '90s (and early 2000s!) nostalgia. I'll be over here setting my ~vibe~ to Sixpence None the Richer's "Kiss Me" and tagging FPJ in every food-based Insta story I post.
Source: Read Full Article