Kiss is one of the most famous bands of the 1970s. The band is enormously iconic and influential for their image, not to mention their music. However, frontman Gene Simmons dislikes some Kiss songs, most famously "I Was Made for Lovin' You."
Kiss has a huge cult following, however, only a handful of their songs became pop hits. One of their biggest pop hits was "I Was Made For Lovin' You." Here's why Simmons isn't a fan of the track.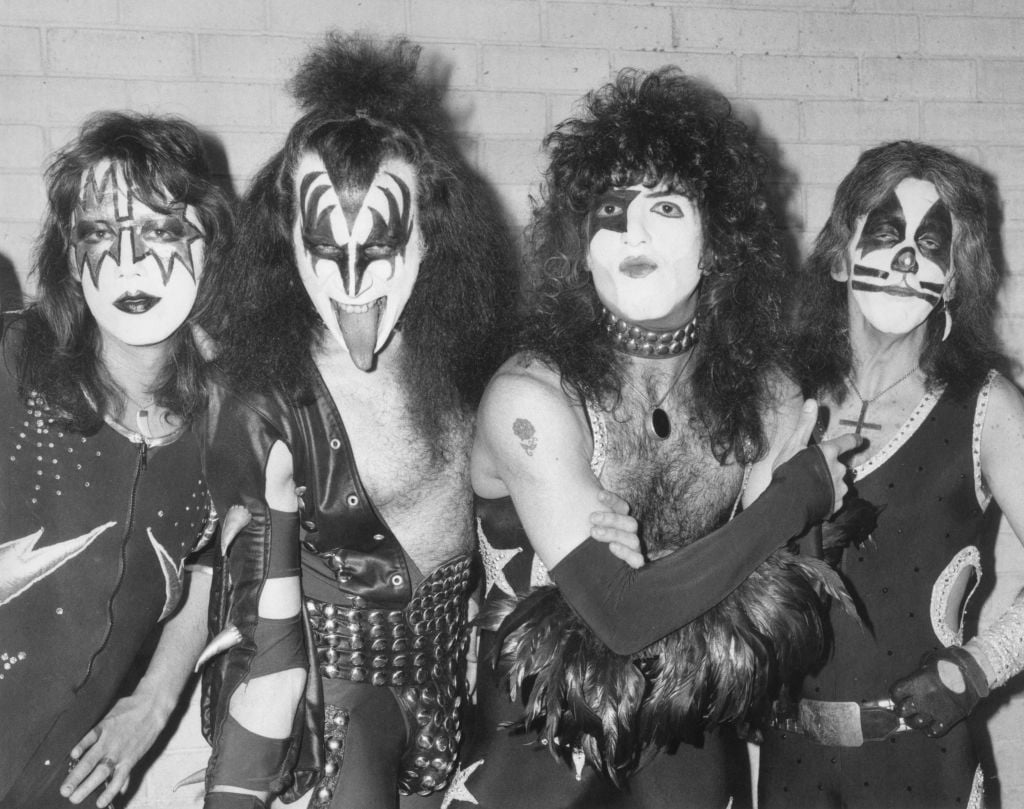 The origins of Kiss' 'I Was Made for Lovin' You'
"I Was Made for Lovin' You" remains hugely popular. It remains a fascinating snapshot into its era. In the late 1970s, many rock acts were trying to write disco songs to retain their chart dominance. Examples of this trend include Rod Stewart's "Da Ya Think I'm Sexy?," the Rolling Stones' "Miss You," and Wings' "Silly Love Songs."
"I Was Made for Lovin' You" was born from a man trying to prove a pint about contemporary music. Kiss' Paul Stanley thought anyone could write a disco song and reach the top ten of the Billboard Hot 100. Subsequently, he wrote "I Was Made for Lovin' You," which hit #11 on the Billboard Hot 100. The song managed to both succeed commercially and underperform Stanley's expectations.
"I Was Made for Lovin' You" proved controversial with Kiss fans. Kiss was a hard rock/heavy metal band. They weren't the heaviest band ever but "I Was Made for Lovin' You" was definitely a step in a poppier direction for the band. At a time where the lines between musical genres were more defined, rock fans hated when their favorite bands incorporated elements of pop or disco music into their songs.
How Gene Simmons first reacted to the song
Simmons has made no secret of the fact that he hates performing "I Was Made for Lovin' You." Simmons' feelings have nothing to do with any perceived selling-out. After all, Simmons has no qualms with making money. He simply doesn't like his part of the song,
Simmons remembers when Stanley first introduced him to the track. It was originally called "Almost Human." Simmons liked the first lines of the track because of their brazen sexuality.
Why Gene Simmons doesn't like the song
However, Simmons wasn't a big fan of his part of the track. He didn't like that Stanley wanted him to sing "Do do do." Simmons felt this part of the song "sing[ing] like [his] grandmother." He dismissed the song as too girly for his taste.
Simmons really hates singing "I Was Made for Lovin' You." However, he concedes that Kiss fans love the track. "I hate playing that song to [this] day. Stadiums full of people jump up and down like Biblical locusts, they go nuts, with tattoos and grills on…they're all jumping up and down and I'm going, 'Do, do, do, do do…' Kill me now!"
"I Was Made for Lovin' You" was a change of pace for Kiss. Simmons hated it. However, it clearly resonated with audiences. In addition, the song still captures how rock music was evolving at the time.
Also see: Kiss: Does Gene Simmons Actually Like His Band?
Source: Read Full Article