Save articles for later
Add articles to your saved list and come back to them any time.
As you know, TFF has long been fascinated by sportspeople in one sport successfully transferring their skills to another. The most obvious example is former Aussie Rules players of no particular distinction becoming superstar punters in the NFL.
Of course, it doesn't always work, and the best example of that was Usain Bolt thinking that his blinding speed would make a blind bit of difference playing soccer for the Central Coast Mariners when he had no clue how to handle the ball at that pace.
And Michael Jordan's stunning hand/eye co-ordination was out-of-this-world with a basketball in his hands but made no impact in baseball. And when rugby league player Israel Folau went to AFL, Geelong forward Cameron Mooney was cruel, but on the money: "He doesn't know what to do out there … he is a statue watching the birds."
But what about collective skills? Friends, I am talking about what's been happening lately with the Philadelphia Eagles, who have kicked up a storm in the NFL by running a play called either the "brotherly shove," or the "tush-push." It's a play they unveil whenever they're "fourth down and one" – as in, they have one more down with the football and need to get the ball another yard forward to get the ball for another four downs.
Are you still there, tree-people? God bless you, I'm singing for you, too.
The brotherly shove sees the quarterback, Jalen Hurts, take the snap from the centre and burrow forward, while all other players push in unison from both in front of and behind him, using all their weight to just drive him the extra yard. It has been devastatingly effective for the Eagles – succeeding almost 90 per cent of the times the team has used it over the last year. It has also become controversial, with the other teams complaining it is against the spirit of the game, and more importantly just about unstoppable from a yard out.
The Philadelphia Eagles and their 'Brotherly Shove'Credit: Getty
Do you get where I am going with this?
Friends, it is a primitive form of the rugby maul, and they have actually had former Scottish assistant rugby coach Richie Gray assisting them. And this is where the likes of former Wallaby hooker Tommy Lawton – the second-best exponent of the rolling maul there ever was – should step in.
For you see, the skill of the rolling maul is to keep the ball safely away from your opponents by having the ball-holder's back to them, while all the others constantly shift the weight from left to right, looking for the weakness, and then advancing from there. As the rugby rolling maul pivots, the ball changes hands as the new ball-holder presents his back to the opponents. Even a half-serious rugby pack would be unstoppable against NFL players from three yards out.
Ruck and maul maestro Tom Lawton (centre) during his Wallabies days.Credit: Fairfax Media
And Tommy could also sell his wares advising teams on the secrets of stopping mauls and rolling mauls. Watching the NFL teams now, they are clueless, with seemingly no clue on how to arrest momentum. When I was watching three weeks ago, one of the linebackers flew straight over the top.
There's MILLIONS to be made on this, I tell you!
Panthers prowling, but give me a break
"Tell me a bigger sporting brand in Australia, [than the Panthers,]" Penrith CEO Brian Fletcher bragged this week. "It's certainly bigger than rugby and the Wallabies."
Can I go first, Brian? I'll go with the Matildas! Followed by the Australian cricket team. And I frankly think you could put three or four AFL clubs next, yes, with followings across the country, far beyond the NRL's main markets in Brissie, Sydney and Canberra.
Panthers start Nathan Cleary on home turf.Credit: Getty
Your average home crowds last year were 18,865, with a capacity of 22,500 – meaning you weren't even selling out in Penrith? And all of the AFL clubs could swallow those numbers without burping.
So, did I get it right? And for the record, even in these grim times, the global brand of the Wallabies would eat up the Panthers by a factor of 225!
But, thank you for thinking of us.
Who'd a thunk it? Caring coaching does work
Think of whom the two most highly regarded coaches in the NRL are, over the long term. Hard to go past Craig Bellamy and Wayne Bennett, yes? And yes, Ivan Cleary is moving up the ranks with his Penrith three-peat, and he's closing fast, particularly if he can get "four-on-the-floor" next year.
Now think of what their hallmarks are, beyond working their players hard. I put it to you that all three are known for their personal approaches, the sense that they care for their players and their players care for them, well beyond what happens in football, even after their careers are long gone.
Could it be that this lies at the very heart of their success, and the rest is just window-dressing?
It is particularly relevant to me this week because I have just interviewed for tomorrow's The Sun-Herald, Liz Mills, one of the most successful coaches in African basketball, who also happens to the only female coach, and the youngest.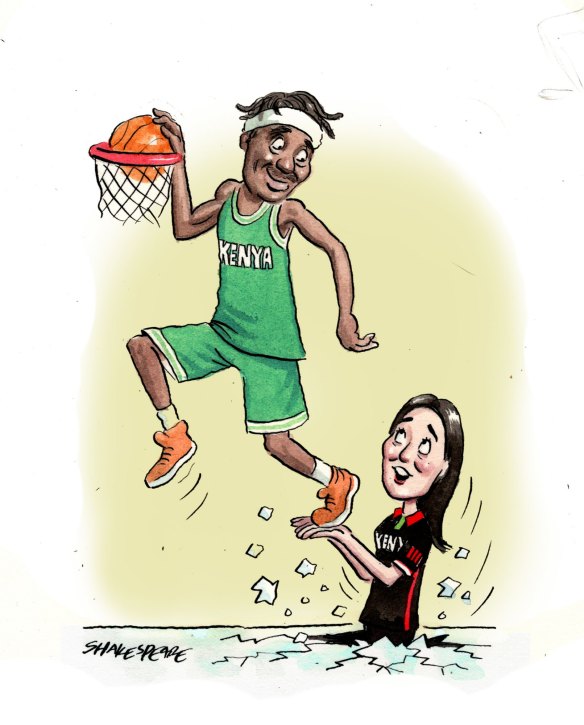 John Shakespeare illo fitz files Liz MillsCredit:
You might recall after her first breakthrough success two years ago, guiding Kenya to beat Angola on the buzzer to qualify for the 2021 FIBA AfroBasket for the first time in 28 years, I interviewed her then, and she talked about the African concept of "Ubuntu" – the idea that, "I am because we are' – I can only be all I can be, if you are all you can be. It's a very team-focused mentality.
Bingo!
"Look," she told me on Friday, "As soon as [my team] come in on day one of training, I'm exactly the same as any male coach they've ever had in the way I carry myself and speak to them. But, if anything, I'm just going to be a bit more emotionally intelligent than my male counterparts.
"I've noticed with a lot of my male colleagues, they don't know how to read non-verbal emotional signals that players emit. They can sometimes lack the ability to sit down one-on-one with another male and have those deep conversations that men can feel more open to having with women, than having with each other.
"So – and the research backs this up – female coaches have that advantage in being able to build better relationships with our players because we're more emotionally intelligent. Obviously, that's a sweeping generalisation. But at the elite level, I think this is where female coaches can be used as an advantage."
Which would mean, by my reckoning, male coaches who take a more caring attitude toward their players, also have an advantage?
It fits with two other conversations I had in the football realm in recent weeks. One was with a very successful international rugby coach who credits most of his own success to having his players care for each other, first and foremost, while all the rest was bells and whistles. And the other concerned a footballer with a deeply personal problem that was badly affecting his form. Who did he tell? The one woman in the set-up. He poured it all out to her, and things sorted themselves from there.
You get the drift. I keep telling you, but you wouldn't listen. The sporting zeitgeist of this third decade of the 21st Century is becoming ever more female.
What They Said
Eddie Jones to Kyodo News after arriving in Japan for a holiday with his wife, Hiroko, on whether he would be available to coach Japan: "If they [Japan] came to me and said, 'Are you interested in coaching them?' I'd definitely be interested." Here's Deidre Chambers! What a coincidence. Deidre! Hey, Deidre! [
Wayne Bennett available to coach elsewhere in 2025: "At the end of 2024, I'm a free agent, so I'm open to all offers. I'm committed to the Dolphins next year, but I will be out of a job after that, so I'm going to be unemployed."
Mal Meninga after Australia lost 30-0 to New Zealand: "Everyone loves to see us lose, so we did that and made everyone happy. It'll shock the rugby league world in the manner we lost and the score-line, but we'll come back with redemption next year."
Wests Tigers recruit Jayden Sullivan wants to be called "Bud": "Everyone in my family calls me Bud and then Jayden if I'm in trouble. Jayden is all right, but I always ask the commentators to call me Bud. Personally, I like the name Bud. I want to actually change it to Bud."
Rugby Australia chair, Hamish McLennan: "For the record – I'm digging in. I get a weird strength from the situation because no one believes that rugby can be saved. And myself, Waughy (CEO Phil Waugh) and the board will prove you all wrong."
Panthers boss Brian Fletcher: "Tell me a bigger sporting brand in Australia … it's certainly bigger than rugby and the Wallabies."
Seventy-year-old Peter O'Neill on doing triathlons: "When you're in your 70s like I am, you're quite happy to just do it because you know it beats the alternative, which is sitting around doing nothing."
Mitchell Starc on beating England at the World Cup: "We are going along nicely. They would probably claim a moral victory."
The retiring Australian cricket captain, Meg Lanning: "The decision to step away from international cricket was a difficult one to make, but I feel now is the right time for me … I no longer have the spark or motivation to do what's needed at this level. For me, it's time to move on. I'm very excited about that."
Paris 2024 wants the surfing competition in Tahiti even though 150,000 signed a petition against the construction of an aluminium tower that would damage the coral reef: "Our ambition has remained unchanged. We are studying every possible scenario to enable the surfing competitions to take place on this site, which we want to preserve, respect and enhance for the Games."
Rugby referee Wayne Barnes: "If you're a fan at your local rugby club, and you're sending vile messages to people's families and making threats, why should you be able to be involved in the rugby family?" Absolutely correct. As un-rugby as it gets.
Pat Cummins, after contributing 12 runs of a 202-run eighth wicket partnership as Glenn Maxwell was going berserk: "A lot of credit should go to 'Maxi', he played his role beautifully."
Glenn Maxwell after his record-breaking innings: "I'm a bit numb to it. It was great. It was great fun."
Team of the Week
New Zealand. Won the Pacific Rugby League Championships with a 30-0 win over Australia in the final. Mal Meninga probably never should have got Eddie Jones to give them a team-talk, beforehand. (Oh, stop it. Just kidding!)
Glenn Maxwell. First men's ODI double century by an Australian – 201 not out, off 128 balls – in a run chase in a special innings that in Test cricket would be remembered for decades but in this format should make it to Christmas. Still, cracker of an innings.
Meg Lanning. Australian cricket captain retiring as the Australian women's team's greatest run scorer and winner of seven World Cups, including five as skipper.
NSW. First Sheffield Shield win in 625 days. (And I know, I had the same reaction as you. They still play Sheffield Shield? Who knew?)
Swans. From no wins in the AFLW last year, they made the finals in eighth spot this year. They take on the Gold Coast Suns on Saturday.
Adelaide Crows. On top of the AFLW ladder after the regular season.
X/Twitter: @Peter_Fitz
Sports news, results and expert commentary. Sign up for our Sport newsletter.
Most Viewed in Sport
From our partners
Source: Read Full Article