The impact that the late Virgil Abloh made during his tenure as Louis Vuitton's Men's Artistic Director was confirmation for luxury houses that betting on someone who possesses a thorough understanding of streetwear culture is a risk worth taking. Matthew M. Williams – founder of 1017 ALYX 9SM, creative director of Givenchy and consistent Nike collaborator – understands this more than most. He and Abloh are cut from the same forward-thinking cloth, and often worked closely together.
Williams spent his upbringing in Pismo Beach, CA and found himself gravitating towards skateboarding, basketball and sneakers. In his late teens, having dropped out of school, he realized he wanted to pursue fashion full-time. He went on to work alongside Kanye West's Donda creative team, style for Lady Gaga, and start up the DJ collective known as Been Trill with Heron Preston and Abloh. Williams has become a household name in the fashion space thanks to his unique design language which strikes a balance between the edginess and utility found in streetwear sensibilities and the sophistication of luxury fabrics and cut — evident elements found in his elevated rollercoaster belts and signature ALYX Chest Rig Bag.
For the designer, sneakers have always been a core part of his identity. Growing up, it was Jordans and classic Nike models from the 90s that piqued his interest, and nowadays he hones in on engineering innovative offerings that are rooted in forward-thinking design. And his newly-released Givenchy TK-360 offering — a contemporary silhouette made from a singular knit material — is a prime example of Williams interest in innovation. So it made sense that he decided to highlight it for his Sole Mates feature.
HYPEBEAST sat down with the crafty designer to discuss his favorite Nike silhouettes growing up, the importance of traveling the world, how he integrates soul and emotion into his products and more.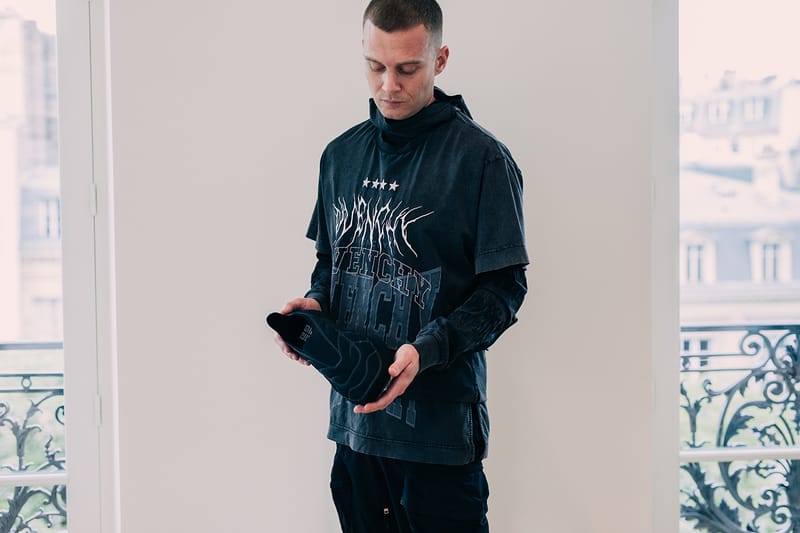 Jeremy French
HYPEBEAST: What got you into sneakers?
MMW: I'd say it was sports that got me into sneakers, especially basketball. Growing up I was always a big fan of Michael Jordan and Penny Hardaway. I believe my first pair of kicks were little baby Nike Dunks that my mom got me when I was born in Chicago, and I've just always been such a big fan of the brand ever since. In elementary school I remember always wanting to have a fresh pair of sneakers to rock for basketball during recess.
Can you recall some of your favorite early pairs growing up?
Yeah I've always been a fan of basketball sneakers and runners from the 90s eras. I was always a huge fan of Jordans as well as Foamposites. One of my favorite pairs ever is probably the Nike Air Max 97 "Silver Bullet." I remember that being the first expensive shoe that I picked up when I was younger.
Was sneaker/streetwear culture prominent growing up in Pismo Beach or did you mostly gain influence from areas such as San Francisco and LA?
Yeah I definitely got a lot of influence from LA and San Francisco. I remember visiting SF a lot and going to stores like Amoeba Music to check out records and CDs as well as FTC for streetwear and shoes and True on Haight St. for more clothes like LRG and all that type of stuff. I'd say I first got into streetwear and sneakers through sports but understood it more through skateboarding as I was going to shops that would be sponsoring the skaters that I loved like Karl Watson. And then from there I found myself gravitating towards the music that was in the skate videos and whatever my rappers were wearing.
At what point in your life did you know you wanted to become a designer?
I'd say I was 19 years old and I had a friend that had a clothing brand that was 12 years older than me called Corpus which was a denim brand. I ended up doing a Summer internship with him and really fell in love with the process of making clothes. I dropped out of school and started working for him and I felt like it was a calling from there because I had never enjoyed doing something so much. I knew there were clothing businesses, but I didn't really understand how clothes were made before that and I didn't know about the different jobs within the fashion industry so that experience was an eye-opener for me. And as soon as I found out that it could be a career it was all I wanted to do.
"He did everything with grace and I really don't think I've ever seen him get mad. He was a north star about how to be a compassionate person and a great leader.
Virgil Abloh was a close collaborator of yours during your Been Trill days and throughout various parts of your career. What did he mean to you in your personal life and design career?
He was a really special person, and I love him so much. I met him when I was 21 and he was a graphic designer for Good Music, and we started to get to know each other by working on Pastelle together. Then we became friends ever since, worked on different projects and traveled the world together. There's a special bond between people that you discover the world with and grow into adults. He was at my wedding and we started our brands at a similar time. There was just mutual love, support and respect and he was so talented and kind-hearted. We just don't have enough good things to say about him and I feel really privileged that I got to spend so much time with him. I miss him a lot.1 of 2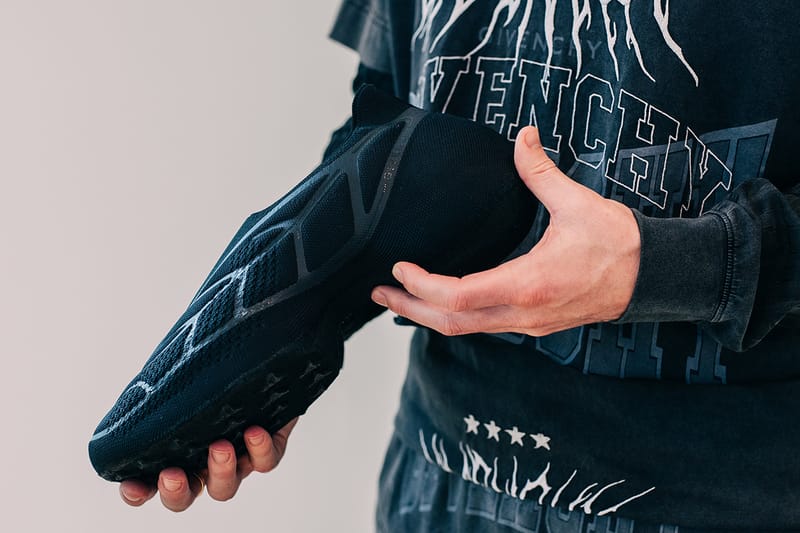 Jeremy French2 of 2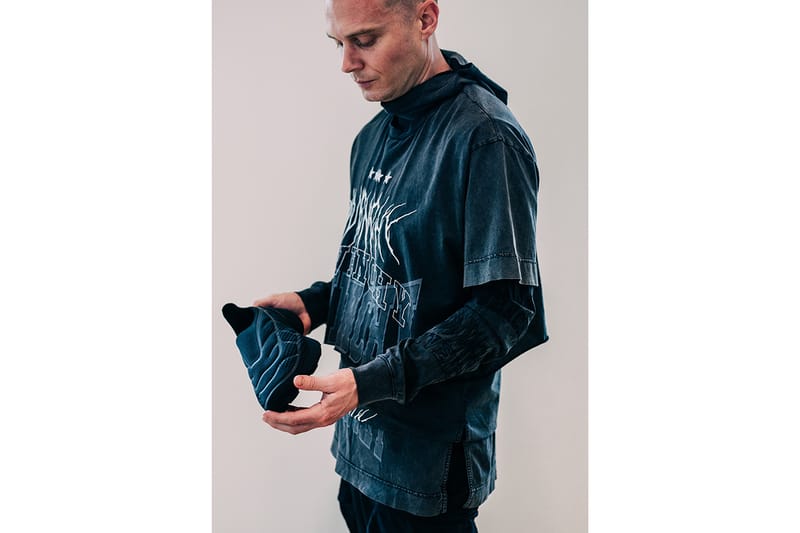 Jeremy French
I've watched countless interviews of people who have worked with him in the past and it just always seemed like he really took the time to go out of his way for people and help them in any way that he could.
He was just a sponge and he could teach himself anything. It didn't matter what the creative medium was, there was no doubt that he was going to excel at it and he was the hardest working person I knew. He did everything with grace and I really don't think I've ever seen him get mad. He was a north star about how to be a compassionate person and a great leader.
Can you recall what one of the most memorable pieces of advice he's given you?
Just to have fun. He always reminded us to have fun and to be grateful for what we were doing and where we came from to get to this point and to enjoy the moments that we were in.
You've spent much of your design career between New York and various parts of Europe such as Italy and Paris. How are the energies different between each of these destinations and how have they influenced your work?
It's hard to describe it, but I feel so fortunate that when I met Kanye and started working with him, I got to start traveling the world with him. Pre-Instagram, there were real subcultures in each city such as different fashion, different clubs and different music and discovering the world in those formative years was really inspiring and building relationships in all of those countries and cities in my early 20s really created an amazing support system for me when I started the ALYX. I go to Tokyo, Italy, London, or Paris and like there's just a ton of memories. There's elements of all those cities where I feel really at home because we spent so much time working there.
New York was the first place I moved to when I was 20 and it will always hold a special place in my heart. I think that that city feels most like home to me and just the energy of the people in the city is always so inspiring. When we live and we experience life, those imprints from experience stay with us but it's hard to put a finger on what it's exactly doing to us.
Since being appointed creative director at Givenchy, in what ways do you feel you've grown as a designer?
I think through working with the amazing atelier here. As you do a skill or a task more and more, you just naturally get better at it. So I went from doing a lot with ALYX and Nike to adding Givenchy to that so it's just a lot more and I'm just working at that muscle more and naturally improving.
For this design I'm really proud of how we managed to create the shoe from one material. And the cool thing about exploring these new ways of making shoes is that there's a lot of room for experimentation and new things to come from that."
For your Sole Mates selection, we're touching on your newly released Givenchy TK-360, How was the experience of designing these and seeing them come to life?
It was amazing because we moved towards the unknown and ventured into the concept of trying to make the sole out of knit. It was a concept and idea that I had in a design meeting when we were doing all of our fabric trials and there was a knit trial that had a 3D print on top for soccer cleats that you'd use to kick the ball and have more control. I had worked with TPU yarns in the past but more for pressing the sides of the shoe to make the shoe waterproof. And then the idea came to me that this 3D print is quite beefy and I thought of beefing up the threads to make something really resistant for the bottom of the sole and melt the yarn to create the lugs for the sole. We spoke to the suppliers to see if we could figure out a way to do that and so it took all the way up to just a few weeks before the show to know if it was possible. When I work on a Nike shoe, it usually is on a 19-month timeline but these were made in seven months, so a much quicker turnaround time.1 of 5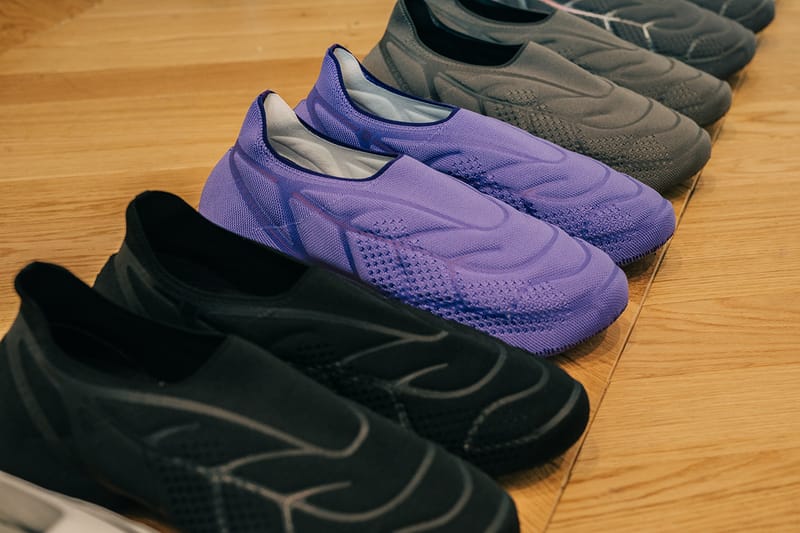 Jeremy French2 of 5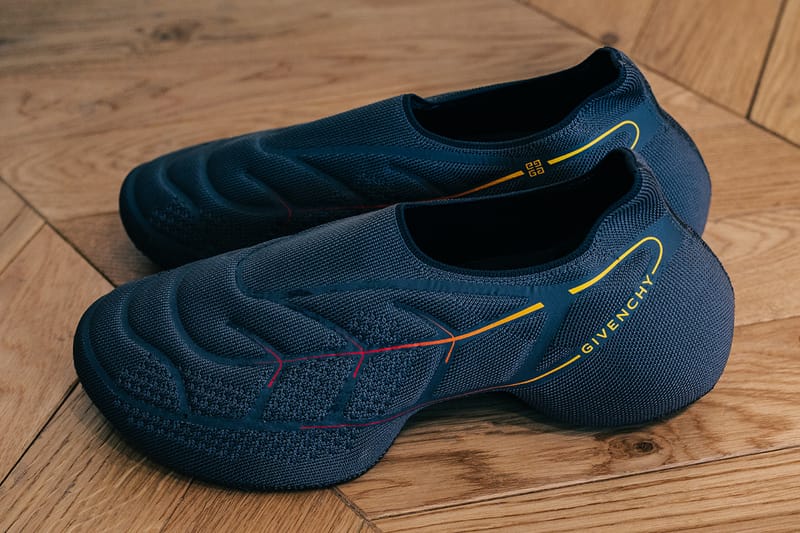 Jeremy French3 of 5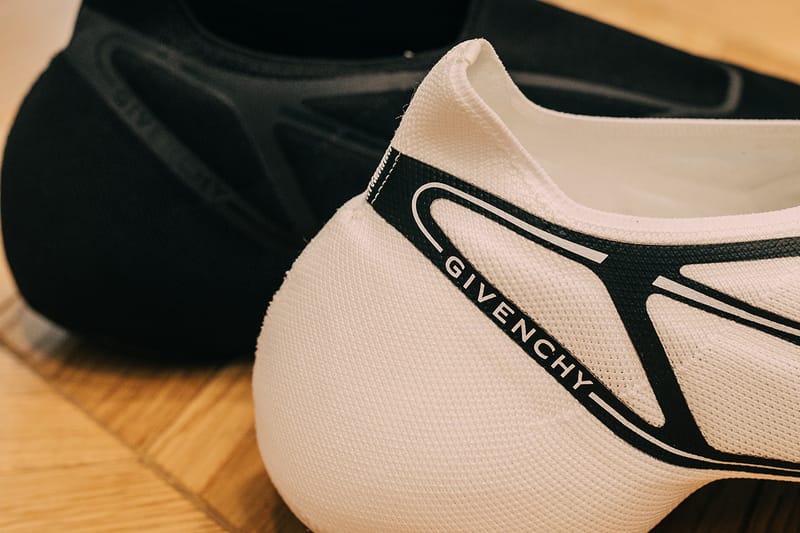 Jeremy French4 of 5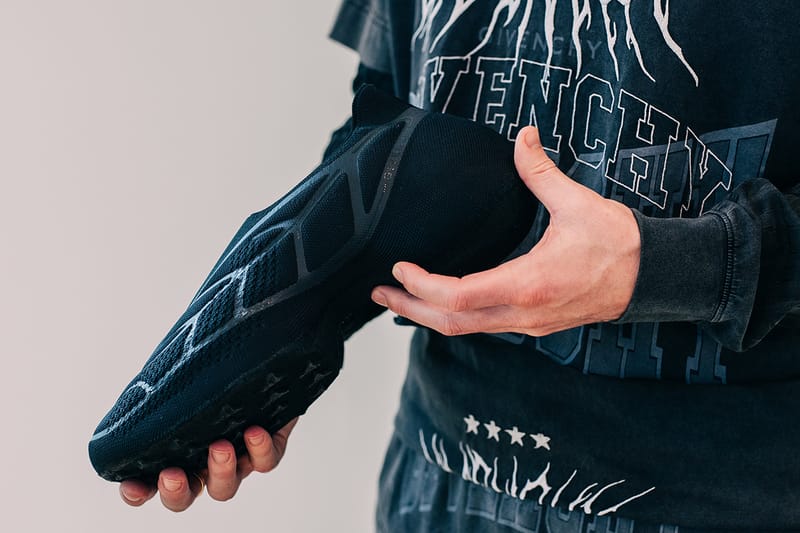 Jeremy French5 of 5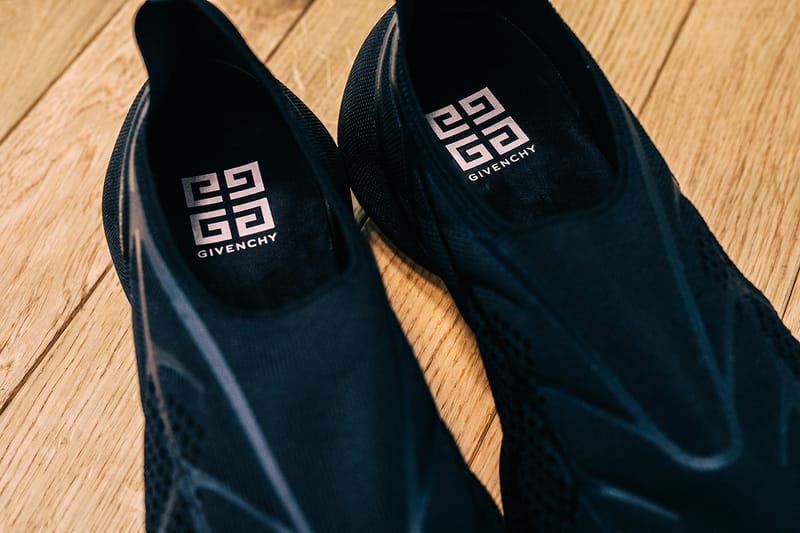 Jeremy French
In the streetwear realm, you're heavily recognized for making technical and tactical-inspired products, but this model was a slight departure from that language as it's more sleek and easy. What do you feel you accomplished with this new silhouette?
I love that it just feels like an entirely new silhouette and that we've found a new way of making shoes. It's also a really comfortable shoe that I enjoy wearing a lot. I love shoes that give shape to an outfit especially for the way that I dress. I wear very simple clothes and love pairing them with the weird shoes that I make.
As technology advances in how to create shoes, everybody starts playing with the same materials. For this design I'm really proud of how we managed to create the shoe from one material. And the cool thing about exploring these new ways of making shoes is that there's a lot of room for experimentation and new things to come from that. It's the same concept as making imagery. When 3D scanning became readily available programs it took time to understand how to use these innovations and people needed to experiment with them. Exploring new techniques is what excites me.
Any plans to push this into a high-top or into the women's category at all?
Definitely. We've got them lined up for the next show.
In the past you've stated that you want your products to have soul and emotion. What do you personally feel when you look at these kicks?
For me soul, emotion, and warmth comes from the tension between something that's synthetic and something that's natural, such as pairing an old faded tee with a technical pant. There's a reality and a soul between those two tensions. I think in this shoe, the yarn has a warmth right but the silhouette doesn't feel cold because of that tension of the shape and that's what gives it soul and emotion. I like that idea of a future being warm, natural and human, not this idea that we're going to be living in Tron in the future.
Also, when you design a product like it has a few different life cycles right? There's the concept of the design and the shoe actually being created and then you have how I propose it in a lookbook, styling it, and seeing how it gets mixed together. And then it has another lifecycle when it goes out into the public, and it becomes something because they start to mean something to people in the real world and how they live in them.
"From a young age I've always loved trying to understand the designer and where that product comes from, and that information interests not only me but my friend groups and that's influenced how my design process requires a lot of conversations first."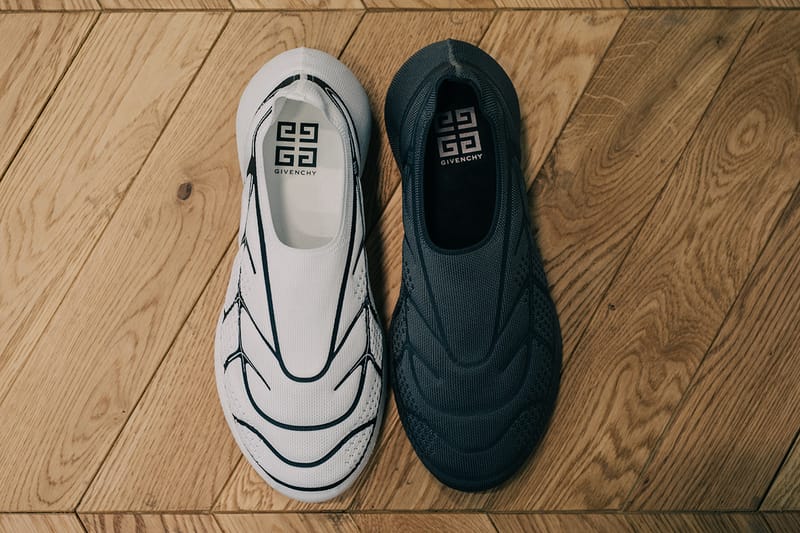 Jeremy French
Why are sneakers and the stories they hold important to you?
I think storytelling is really interesting. I love to understand how things were made and why they're made, and I think it's just something that comes from how I love to consume fashion. From a young age I've always loved trying to understand the designer and where that product comes from, and that information interests not only me but my friend groups and that's influenced how my design process requires a lot of conversations first. I love having discussions with the people around me such as the suppliers and the teams I work with. That dialogue about why something should exist is a really important starting point before you even begin to even design.
Source: Read Full Article