You don't need to know the difference between a three-card and a Celtic cross spread, to get the most out of a tarot card reading. All you need: your Sun sign! Here's what I do: Shuffle my tarot deck and pull out the cards in order from Aries to Pisces plus one general card for everyone so that you can get specific advice around your personality. Let's go!
A GENERAL CARD FOR EVERYONE: PAGE OF WANDS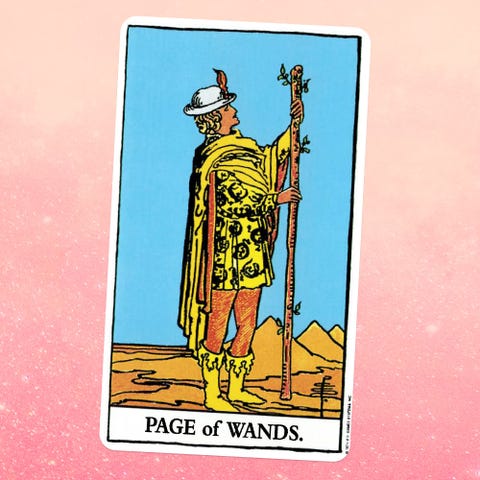 Spontaneity is important, even when we're staying at home. The Page of Wands is like a strong wind blowing through your world, picking up the pieces and swirling them around. Let yourself go with this frenetic energy. The Page of Wands seeks change and a new perspective—and all of this will happen in the moment, unplanned. When the feeling takes you, do something differently, switch up your routine, make a friend, or try a new activity.
ARIES: TEN OF WANDS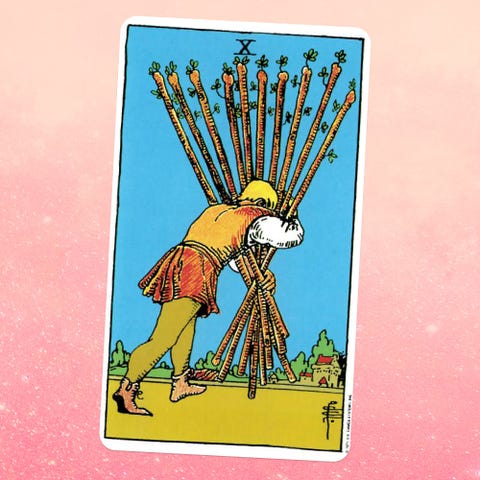 Less is more, Aries, particularly when you're as powerful a force as you are! The Ten of Wands asks you to look at where you might have been overdoing it recently—are you spending too much time working? Are you focusing so heavily on one relationship that you're forgetting about others? Are you putting yourself under pressure? Find the ~hot spot~ , turn the dial down, and chill.
TAURUS: THREE OF CUPS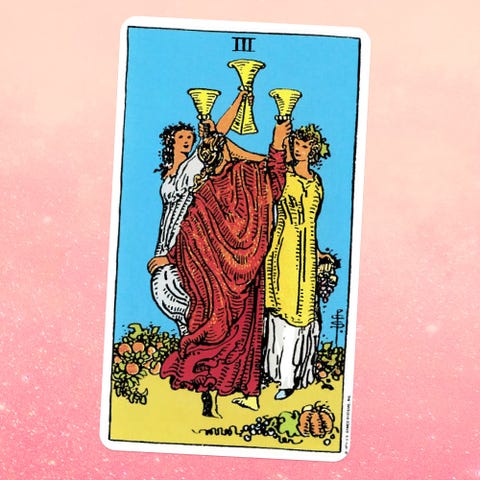 It's *your* season, and you're glowing. The Three of Cups has you basking in attention, admiration, and possibilities. So many people want to get to know you rn, and you're feeling it. Venus is your ruler, and you love being social and indulging in pleasure. You're living your best life this week. Enjoy it!
GEMINI: TEMPERANCE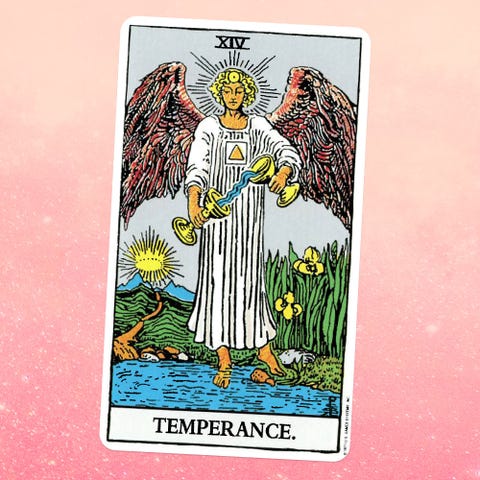 Your infamous adaptability is a strength but it does, like most things, have a downside—and for you, that's a difficulty staying still. Temperance asks you to slow down, breathe, and exist in the moment more this week. Try to stop overthinking things. Take some time to log off and try to relax. Let go of needing to be ~on top~ on it all, and just glide along for a while. You need a break.
CANCER: ACE OF COINS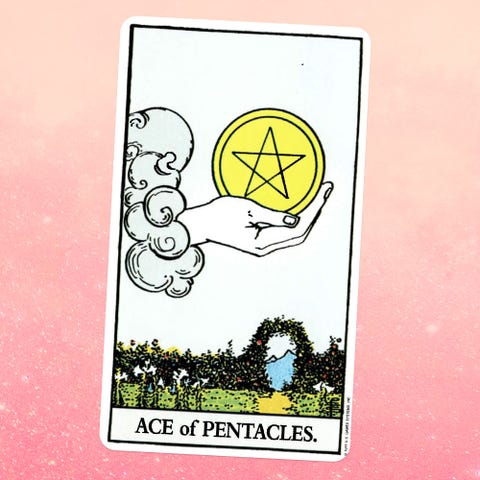 Not everything worthwhile starts with a bang—sometimes a situation slowly evolves without you even noticing it. An epiphany will occur to you this week, as shown by the steady Ace of Coins. Something you've taken your eye off has gotten a whole lot better. Maybe it's a relationship that never got going, a hobby you set aside, or a career opportunity you thought had passed. Take a second glance—there's still time to recognize and embrace it.
LEO: THE EMPRESS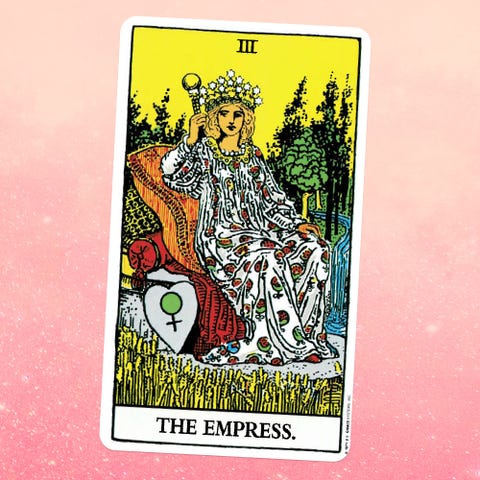 Spring makes you feel like anything is possible. The Empress sees you in a good mood this week, and even if you're in difficult circumstances, you'll find new ways to add fun, creativity, and excitement to your life. You're a bright light in this dark world, Leo.
VIRGO: EIGHT OF SWORDS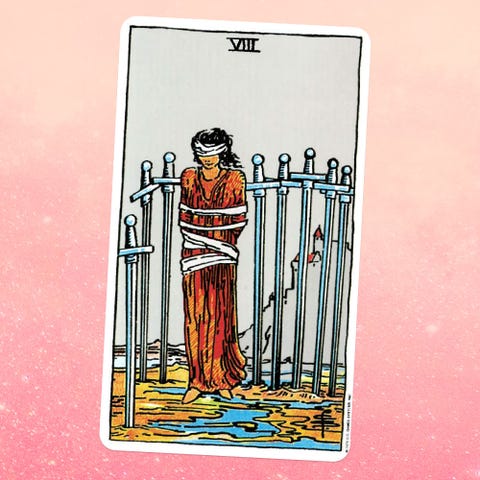 Your inner voice can be critical and negative—she points out EVERYTHING, and you try your best to ignore her, but she can be persistent. The Eight of Swords asks you to do try switching her off this week, because her nitpicking and second-guessing is doing you no good. Distract yourself with a new TV show or an absorbing hobby. Get on the phone to your BFF. Find ways to stop listening to her, and you'll feel so much better.
LIBRA: JUSTICE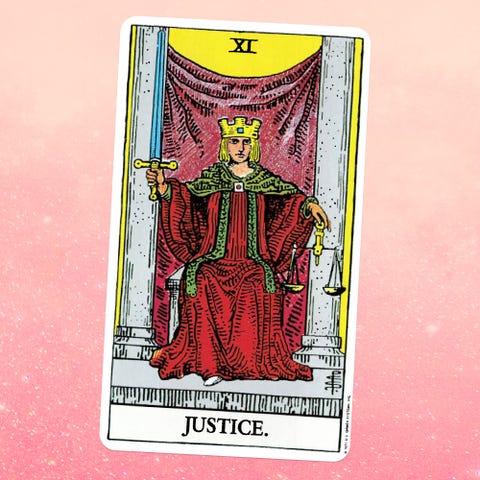 Justice is the tarot card that represents your sign, so this is an important week for you, Libra. What's going on? It feels like you're finally going to get some well-deserved recognition… or vindication. Despite being treated badly, you never tried o take revenge, and karma appreciates your good behavior. So, now it's time for an unexpected treat. Keep your eyes open!
SCORPIO: TEN OF CUPS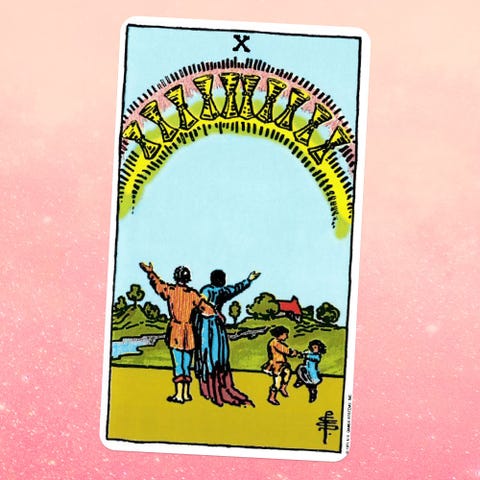 You're passionate about your intersts and your love life, because you've got that Mars energy stirring you up. The Ten of Cups shows this is going to be a red-hot week for you, so prepare to follow your heart. A new lover? Possibly, and maybe a fellow Water sign (Pisces, Cancer, or a fellow Scorpio). A new ambition? Maybe—if it's incredibly motivating. Something that makes your heart beat a whole lot faster is going to emerge in the next seven days.
SAGITTARIUS: NINE OF SWORDS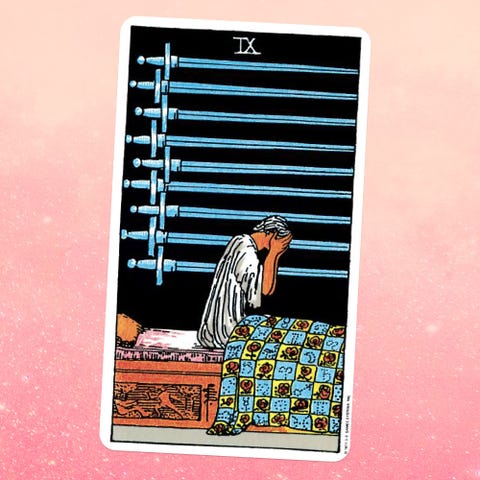 You usually speak your mind the minute a thought enters your brain—you're infamously "no filter." However, the Nine of Swords has seen you biting your tongue this last couple of weeks, and it's all starting to build up. Sag, make sure you tell your concerns to someone you trust. Your fears can be addressed, and most of them will fade once you've said them aloud. Talk.
CAPRICORN: TWO OF CUPS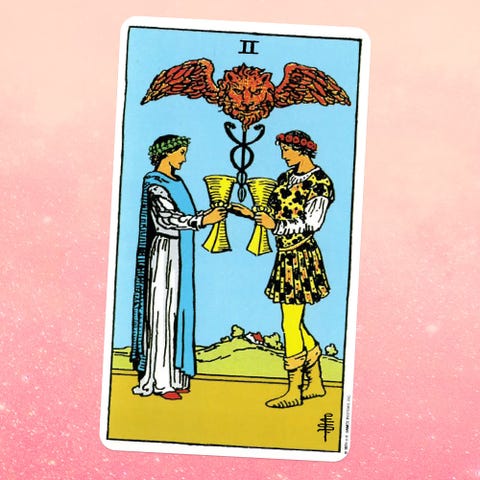 Well, well. Somebody's love life is set to take a turn for the better in the coming seven days. The Two of Cups is a love card, for sure. It promises new relationships will flourish and old ones will be rekindled. Your DMs are full—have fun!
AQUARIUS: THE MOON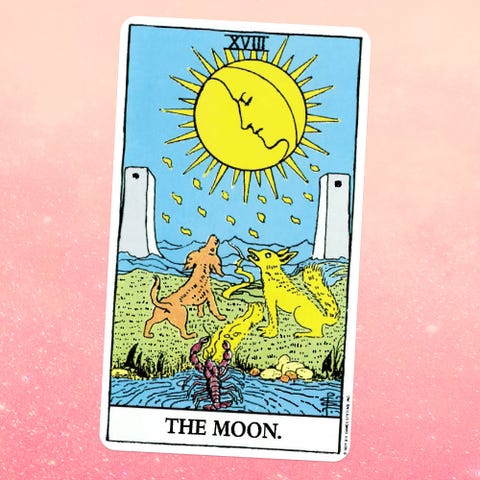 Whatever it is you're thinking of doing, Aquarius, please pause. The Moon reveals that there's something important that you have yet to uncover, and it will make a difference to what you decide to do. Don't ac without getting all of the information you need—because you don't know it all yet. Go ask some questions, do some snooping, and figure things out.
PISCES: THE STAR
The Star is the tarot's most positive card—congratulations, Pisces! What do you want to accomplish? This energy is powerful, so don't waste it on something easy. The higher you aim, the better the outcome, so visualize your biggest wish, and focus on making it happen. The Universe is going to help you achieve it.

Source: Read Full Article