Dr. Ethan Choi is finally back for the remainder of Chicago Med Season 7. Brian Tee returned in a new episode on April 13 ready to work after recovery from spinal fusion surgery. However, Ethan has been through a lot since getting shot at the end of season 6. Chicago Med actor Oliver Platt teased that Ethan's ordeal has changed the character greatly.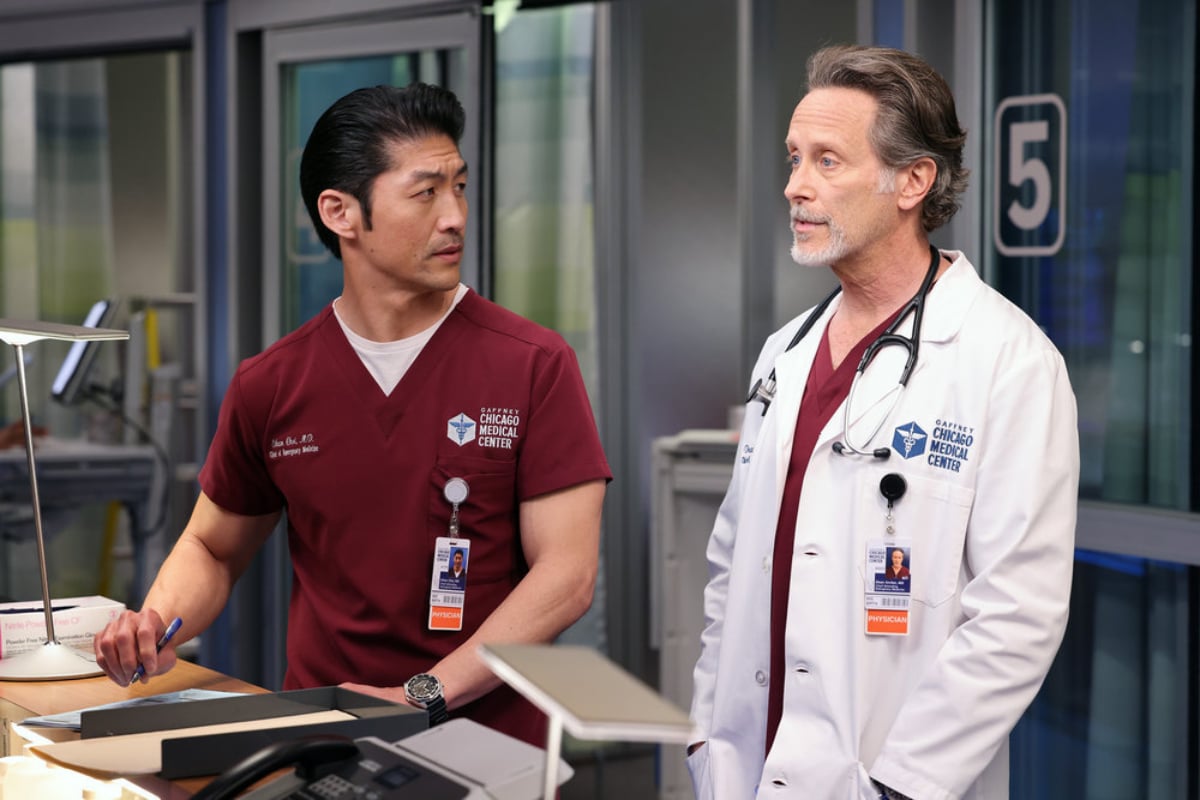 Dr. Ethan Choi's father died in 'Chicago Med' Season 7
Ethan has been friends with Dr. Daniel Charles for a while now, and Charles was there for him in a big way already in Chicago Med Season 7. In episode 12, Ethan and Charles ran into each other while Ethan was still recovering from his surgery. Dr. Charles ended up accompanying Ethan to visit his father Patrick, and the episode took a very sad turn.
Ethan's father collapsed and had to be rushed to the hospital. There Ethan learned that Patrick has a brain tumor that will prove terminal, and Patrick has been refusing treatment. Patrick refuses to have a heart-to-heart with his son. Instead he sends him on an errand to put snow tires on his truck.
Dr. Charles is there for Ethan when he breaks down outside his father's house. At the end of the episode, Ethan gets a call and seems to sense that it won't be good news. He asks Dr. Charles to take it, and he gently informs Ethan that his father died.
'Chicago Med' EP says Ethan will lean on Dr. Charles again this season
As Chicago Med Season 7 progresses, Ethan will find himself leaning on Charles once again. According to TV Insider executive producer Andrew Schneider revealed during One Chicago's recent press day, "He gets thrown a big, emotional curveball, which he'll come to Dr. Charles to talk about."
That "emotional curveball" may show up in episode 19. The synopsis on One Chicago Center reads, "Halstead and Asher work to save a surrogate's baby; Charles cares for a patient on a hunger strike; Choi and Archer help a patient with ties to Choi's late father; Scott and Maggie are stumped by a drunken patient who claims to be sober."
Ethan returned for good in episode 18, and fans saw a different side to the character. Maggie and Will try to protect a patient who is in the country illegally, but they avoid telling Ethan what they are doing. The pair are afraid that Ethan will report the patient to the authorities, given his past by the book attitude.
However, Maggie and Will are in for a surprise by the end of the episode. Ethan asked his immigration attorney friend to pick the patient up from the hospital and see what he could do to help. Will and Maggie are stunned and ask Ethan what is going on. "A lot has changed for me in the past few months. Maybe we leave it at that for now," Ethan says.
Oliver Platt teased a 'different Ethan' in the remainder of the season
While speaking with TV Insider, Dr. Charles actor Oliver Platt teased that fans may see changes in Ethan in the remainder of Chicago Med Season 7. "The great thing about talking to Ethan is that he is a traditionally, sort of rigid, by-the-book kind of guy who maybe is a little bit buttoned-up and of course, shrinks just love that," Platt said.
"I love the way our relationship has developed. Some of my favorite stuff with Ethan was in the first season when he was dealing with his PTSD and we informally struck up a relationship. He's gone off and a lot of stuff's happened to him, so I think you're gonna see a different Ethan."
Chicago Med airs Wednesdays at 8 p.m. EST on NBC.
Source: Read Full Article