Sorry, Bachelor Nation fans. There have been a few changes in the franchise's schedule due to the coronavirus (COVID-19) pandemic. In April 2020, ABC unveiled a new series called The Bachelor: The Most Unforgettable — Ever! to replace The Bachelorette and Bachelor in Paradise as production continues to be postponed this summer. The latest spinoff will feature the "best of" moments from the franchise. But recently, host Chris Harrison confirmed both Bachelor in Paradise and Bachelor Pad won't be in The Most Unforgettable — at least for now.
Chris Harrison thinks 'The Bachelor: The Most Unforgettable — Ever!' could receive more episodes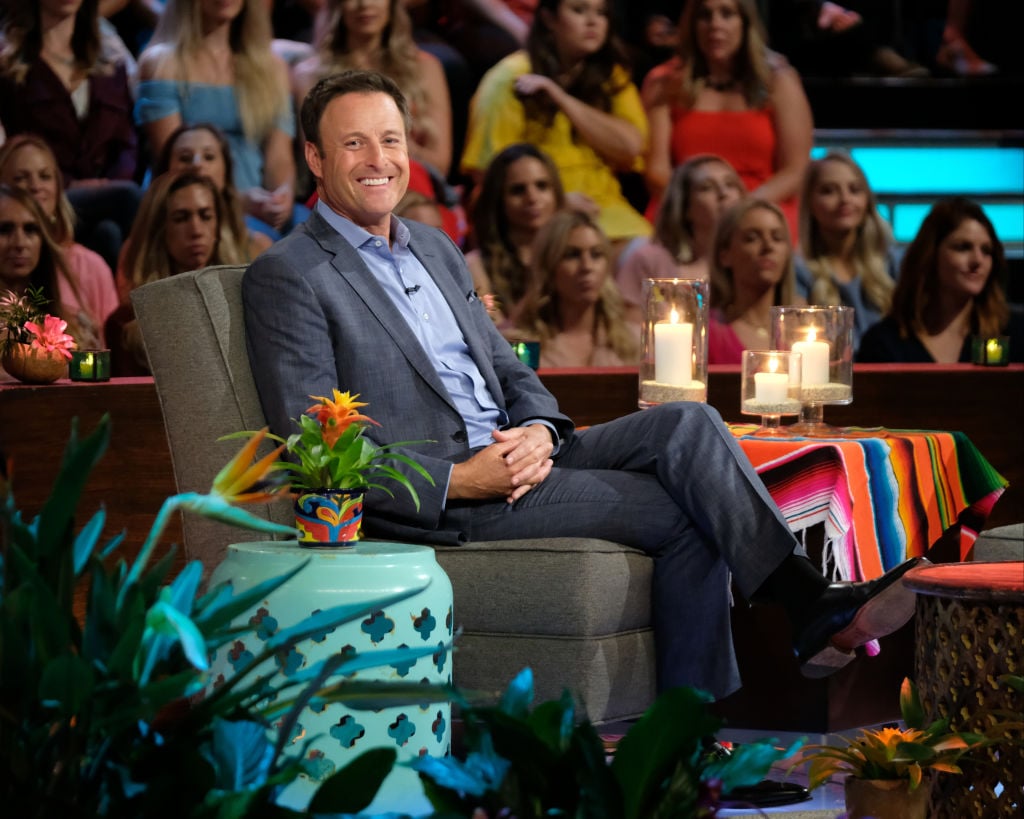 When speaking with Entertainment Weekly in May 2020, Harrison opened up about The Bachelor: The Most Unforgettable — Ever! and revealed what fans can expect. The host also answered whether we will see fan-favorite spinoffs like Bachelor Pad or Bachelor in Paradise featured this summer.
"Right now, no. Bachelor Pad and Bachelor in Paradise are not on the docket," Harrison said. "But if this gets expanded, which I think it will, maybe we throw in a Bachelor Pad season 1. A lot of people don't even know that show existed."
Meanwhile, Harrison hinted which Bachelor Nation seasons he wants to see when the show premieres in June, aside from Juan Pablo Galavis' season featuring the next bachelorette, Clare Crawely.
"There are a couple of seasons that you have to show," Harrison said. "Trista, you've got to show the first bachelorette. Sean Lowe's season I think is unanimously a classic that everybody loves. Kaitlyn Bristowe was a great bachelorette, and a lot of people came out of that show."
He continued: "There were some seasons that were pivotal for a lot of reasons. Out of Juan Pablo's season, you had Andi Dorfman, and you had Clare. Those are the seasons that will definitely stand out. But we're going to get a lot of them — we're going to do 10 of these [episodes], if not more, so that's a lot of seasons that we'll be able to revisit."
Harrison also shared he would personally like to see Jillian Harris' season of The Bachelorette and Aaron Buerge's season of The Bachelor.
Chris Harrison explains how 'The Bachelor: The Most Unforgettable — Ever!' will work
Now we all know each season of The Bachelor and The Bachelorette was filled with endless hours of drama. So how exactly will the editors condense all of that material into three hours? Here's how The Bachelor: The Most Unforgettable — Ever! will work.
According to Entertainment Tonight, Harrison will recap some of the best moments within The Bachelor franchise. He will also — virtually — check in with Bachelor Nation alums. But apparently, the host will be inside The Bachelor mansion in person.
Of course, the Harrison promised fans everyone would take precautions due to the coronavirus. There will be a limited crew, but they won't be in direct contact with Harrison.
"We won't touch anybody, we won't see anybody," Harrison said. "This has been like a military operation — the hoops we have jumped through to make sure that everyone is satisfied, lawyers, you know, heads of states, you name it."
Regardless, the three-hour episodes of The Bachelor: The Most Unforgettable — Ever! will simply be a love letter to fans filled with recaps and reflections — without digging up drama from the past.
"This will be fun to look back and have those conversations, but it's not even really about that, it's not about… causing drama," Harrison told Entertainment Tonight. "This is all in love, this is all in fun and it is not going to be this long, linear story."
So buckle up. We're about to take a trip down memory lane.
Read more: 'The Bachelor' 2020: Did the Producers Ruin Peter Weber's Season?
Source: Read Full Article