The hit CBS procedural drama, NCIS: New Orleans, aired its final episode of the season amid the coronavirus (COVID-19) pandemic. The final two episodes put a heavier-than-usual focus on Necar Zadegan's character, Special Agent Hannah Khoury. With so much that's happened this season, here's how the cast is looking ahead, according to Zadegan.
Who is Necar Zadegan on 'NCIS: New Orleans'?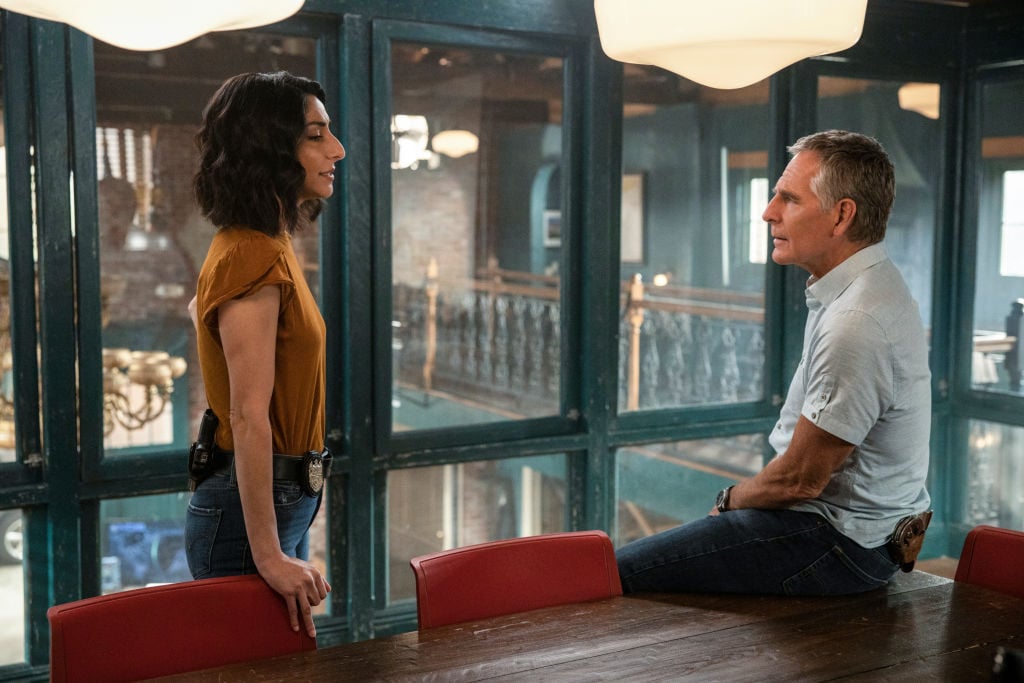 As one of the newer kids on the NCIS: New Orleans block, Necar Zadegan knows a thing or two about "pushing forward." Fresh off her stint as Delia on Girlfriends' Guide to Divorce (among other projects like 24), Zadegan joined the NOLA cast in 2018.
Zadegan is a woman of many talents. Aside from chasing bad guys on NCIS: New Orleans, she also holds the record for the longest movie kiss with her work in Elena Undone. The smooch lasted an impressive 3:24 minutes, breaking the previous record (from 1941).
Zadegan's talent is undeniable, but what is life really like on the set post-Lucas Black? Zadegan has a few thoughts.
How 'NCIS: New Orleans' is 'pushing forward' after Lucas Black's departure
It's been months since Black's NCIS: New Orleans character, Special Agent Christopher LaSalle, was killed off. Many still aren't over it. Black left to spend more time with his family and to pursue other projects such as the next installment of the Fast and Furious franchise.
Zadegan said one of the reasons the show works after the departure of a fan favorite is because of how the writers tell a story.
"I was really interested and intrigued by working on a story-focused show after leaving so many character-focused shows. I love the aspects of the reach you get from a story-focused show, you know what I mean? The story continues," Zadegan recently told Parade.
She goes on to talk about the effects of losing such a prominent character like LaSalle and how the cast and crew have found a way to look ahead.
"Regardless, we lost a great character with Lucas Black's exit, but the story really pushes forward no matter what, so it doesn't always leave a lot of room for character exploration," she said.
"But when you get to do the character exploration, it builds such a rapport, not only between the characters but between the audience and the characters, as well, in a much deeper way. So, I love it when they do stuff like that."
What's next for 'NCIS: New Orleans'?
The most recent episode, "Predators" is the final in the season due to the unforeseen impact of COVID-19. With Charles Michael Davis playing Special Agent Quentin Carter in 2020, Zadegan is no longer the new agent.
"The writers are doing a really beautiful job of bringing Carter in, in a really different way than any of the other characters. He came in obviously after we lost a character that was beloved," she told TV Insider of Black's imprint and Davis's entrance.
"This definitely gave the writers an opportunity to bring in a character that was going to build a different dynamic with us and within the other characters' relationships, too. It's been wonderful working with Charles. He's just such a lovely man and a lovely actor. He definitely brings a new dynamic to set."
She went on to explain how the show continues building despite the huge loss.
"It definitely left a hole in the story with regards to his character because his character was an original and a beloved character for the show and a lot of the story was built around him," she said.
"Which, because of all those reasons, actually gives an opportunity to make great drama because a loss like that is important and so the writers were smart to build stories around it."
As for what comes next for NCIS: New Orleans as a whole, it's hard to say. The show hasn't been canceled or renewed for season 7 just yet. We'll keep out eyes peeled and update when there's news.
Source: Read Full Article