It's been years since Linsey Godfrey and Pierson Fodé graced the small-screen. Their roles as Caroline Spencer Forrester and Thomas Forrester on The Bold and the Beautiful were complex ones. The odd couple had a rocky, controversial, start to their relationship. It's something that executive producer and head writer, Bradley Bell, finally addressed. Here's what he said about that B&B storyline.
Thomas and Caroline's sordid past on 'The Bold and the Beautiful'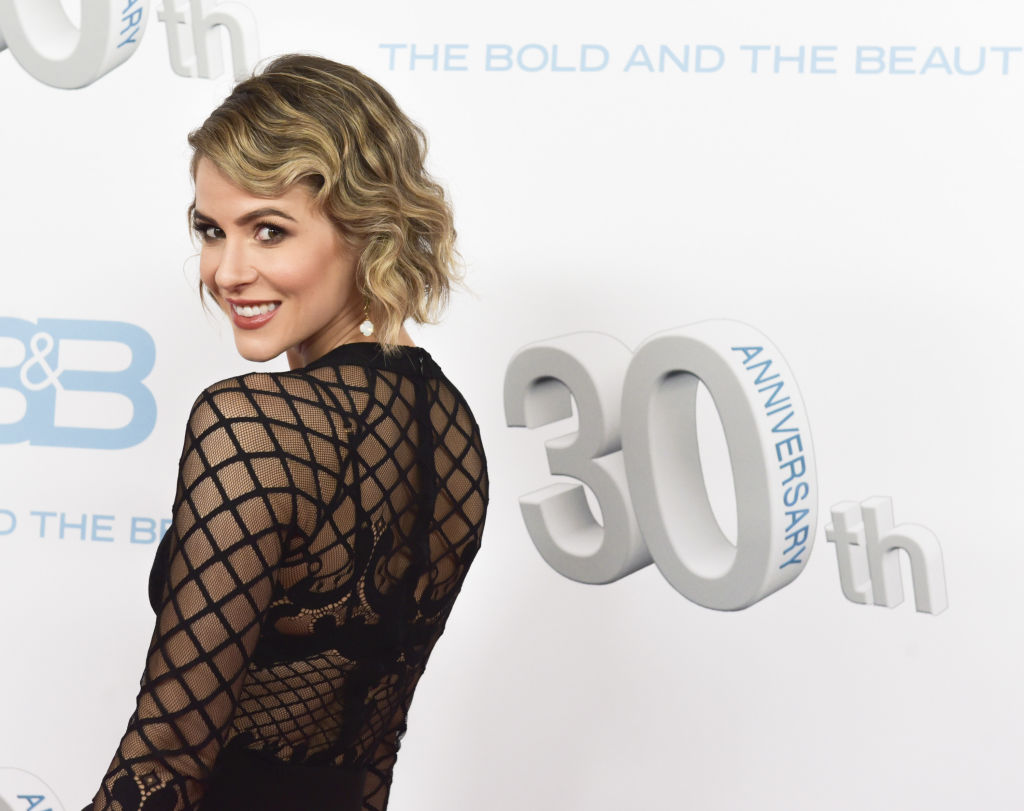 RELATED: 'The Bold and the Beautiful' Star Hunter Tylo Once Sued TV Tycoon Aaron Spelling For A Totally Valid Reason
In the fall of 2015, the CBS daytime drama, The Bold and the Beautiful aired a controversial episode. The show featured alums, Linsey Godfrey and Pierson Fodé. At the time, Fodé was portrayed as an arrogant womanizer, Thomas Forrester, and Godfrey was his ex-girlfriend, Caroline Spencer.
Caroline had too much to drink when Thomas initiated sex. However, Thomas wasn't aware of Caroline's antianxiety medication which amplified her alcohol impairment.
Caroline had no memory of the act when she awoke the next morning. She attacked Thomas when he attempted to touch her. Caroline's reaction suggested she felt violated. It marked the episode as an important one — opening the dialogue about sexual assault and blurred lines.
After initial criticism of Thomas's actions, writers did an about-turn with the character. They transformed him into something more like a saint and Caroline — who became pregnant as a result of the act — a villain for keeping his paternity a secret.
While Thomas's character has gone off the rails in recent episodes (after Fodé was replaced by Matthew Atkinson), that prior situation begs the question: was the sex between Thomas and Caroline consensual or not?
Producer, Bradley Bell weighs in on the controversy
RELATED: Why 'The Bold and the Beautiful' Producers Re-Wrote a Storyline For Linsey Godfrey
The B&B storyline between Caroline and Thomas struck a nerve among viewers. But, what does executive producer and head writer, Bradley Bell, think of it all?
"We were careful to write it so that the audience knew Caroline had taken a pill and was a bit out of it, but Thomas did not know about that pill. Caroline was kissing him back. It was very much a give and take," he previously told TV Insider.
"Thomas thought the sex with Caroline was completely consensual and beautiful and that it was the culmination of their love for one another. He didn't know what the audience knew. He was shocked the next morning when she woke up to have this negative reaction," he said.
When pressed about the validity of the act being consensual with Caroline under the influence, Bell adamantly defended Thomas's point-of-view.
"Thomas was under the clear perception that the sex was consensual. He is not the type of character who would do something like this. I don't think it was fuzzy," Bell said.
He continued: "I can certainly see how people could be very upset with Thomas and blame him for what happened. But, again, we were careful to keep him unaware. His perceptions were dim. Her perceptions were dim."
The storyline morphed into something bigger when Caroline gave birth to their child. Still, conversations surrounding the initial act will forever be impactful.
Will Godfrey or Fodé ever reprise their roles?
RELATED: Inside Former 'The Bold and the Beautiful' Star Linsey Godfrey's 'Freak Accident'
At the moment, it doesn't appear as though Godfrey or Fodé will return to the set of The Bold and the Beautiful anytime soon. The show killed off Caroline in 2018. Though that's never stopped a soap from bringing back a beloved character, Godfrey moved over to Days of Our Lives as Sarah Horton. She's also enjoying the quarantine with daughter, Aleda, and boyfriend, Breckin Meyer.
The role of Thomas is currently played by Matthew Atkinson whose last air date was March 202 — just before production shut down. He doesn't currently have anything else lined up and will likely continue playing Thomas until further notice.
As for Fodé, he's been a little busy. With 11 projects announced or completed since his 2018 departure from The Bold and the Beautiful, he may have moved on from his soap days — at least for now.
How to get help: In the U.S., call the RAINN National Sexual Assault Telephone Hotline at 1-800-656-4673 to connect with a trained staff member from a sexual assault service provider in your area.
The Bold and the Beautiful airs weekdays on CBS.
Source: Read Full Article