Tiger King has become so ubiquitous that even people who haven't seen a single episode of the latest Netflix sensation have some sense of who Joe Exotic and Carole Baskin are. It's one of those "you have to see it to believe it' shows.
As is the case with most "you have to see it to believe it shows," at least one participant is appearing on TV and in print contending that the hot new show makes him look worse than he actually is. Such is the case with John Finlay, who wants to tell you he is not, in fact, a drugged-out hillbilly.
What's all the fuss about Tiger King?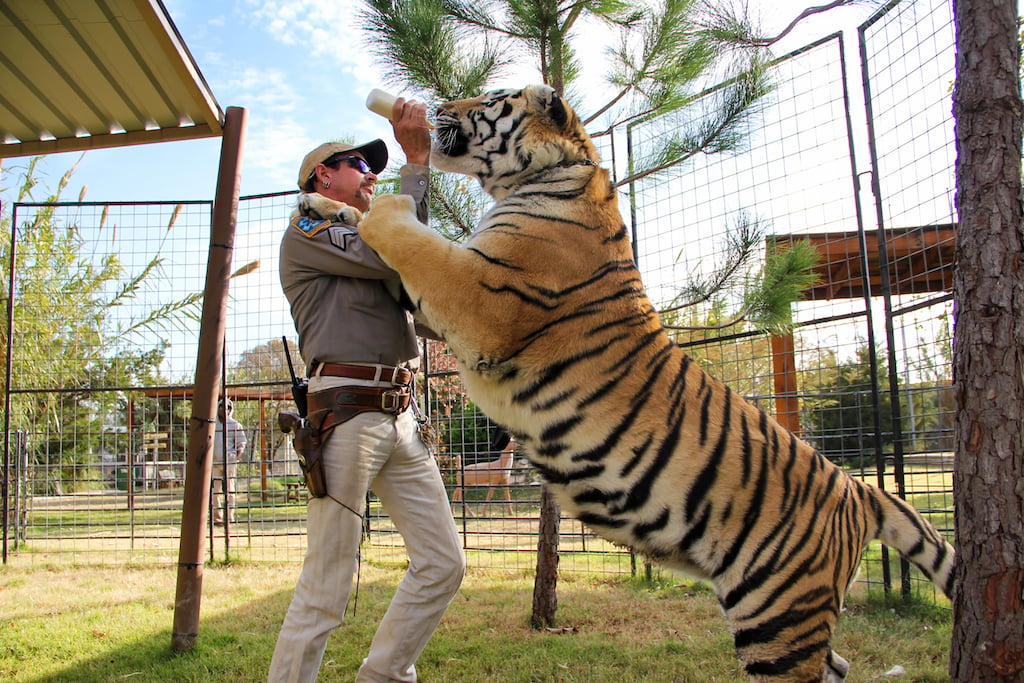 According to Today, the Tiger King's given name is the less exotic Joseph Maldonado-Passage, who claimed to be a prolific breeder of tigers in the United States. His exceedingly bizarre story involves everything from a drug lord who may or may not be the inspiration for the movie gangster Scarface, to the now notorious Carole Baskin. 
To make a long and strange story shorter but no less strange, Exotic ends up in prison for a murder-for-hire plot for conspiring to kill Baskin, the CEO of Big Cat Rescue. And just to make things even weirder, she herself had been suspected by many in the 'big cat' community to have had a role in the 1997 disappearance of her husband at that time,  self-made millionaire Don Lewis. 
The show is not merely fed by people cooped up with the quarantine – critics have liked it too. It scored 87 percent on Rotten Tomatoes, with the consensus stating: "A bizarre true crime story you have to see to believe, Tiger King is a messy and captivating portrait of obsession gone terribly wrong." Daniel Fienberg of Hollywood Reporter writes, "Whatever flaws it might have, Tiger King is a series that viewers, especially quarantined viewers who might be feeling a little caged themselves, will tear into like a liger into a pile of expired luncheon meat from Walmart."
Why does John Finlay dispute Tiger King?
People says that Finlay briefly married Joe Exotic in an untraditional three-way wedding in 2014 after meeting him while working at the "tiger king's" zoo in Wynnewood, Oklahoma. Finlay admits he had a meth problem at one time, but he's worked to get clean.
"The (documentary) made me look like a drugged-out hillbilly," he complained. "But at the time I did that, I was five years clean. I am now six years clean." Previously, he even went so far as to show up his nice new teeth, which don't have the gaps seen on Netflix.
He says he is eager to leave his strange past behind him and to inspire others to do better than he once did. "I want to work with the youth about drugs and abuse," he said. "It's time for me to take a negative and turn it into a positive."
Here are more movies and shows like Tiger King
Fans of Tiger King may think they've seen nothing like it, but there are other movies and shows out there involving animal care and other shenanigans that are available. One of these is the movie Fast, Cheap, and Out of Control, a documentary by the acclaimed filmmaker Errol Morris, whose credits include Netflix's Wormwood. Part of Fast, Cheap and Out of Control, about people who have unusual, one of a kind jobs, is about a lion tamer named Dave Hoover. It's available for rent on Amazon, iTunes, and other sources. 
The documentary The Elephant in the Living Room is about people who own exotic animals and the people trained to catch them when those exotic animals escape. It's available with ads on the Roku channel and Vudu. If you're looking for more true crime documentaries on Netflix, there's no shortage of those.
And if you want some Scarface, there's always the 1983 movie starring Al Pacino and directed by Brian De Palma. However, that's based on a 1933 movie starring Paul Muni and directed by Howard Hawks, and that story was inspired by Al Capone. It's available for rent or sale from various outlets and also shows up on Turner Classic Movies. 
Source: Read Full Article