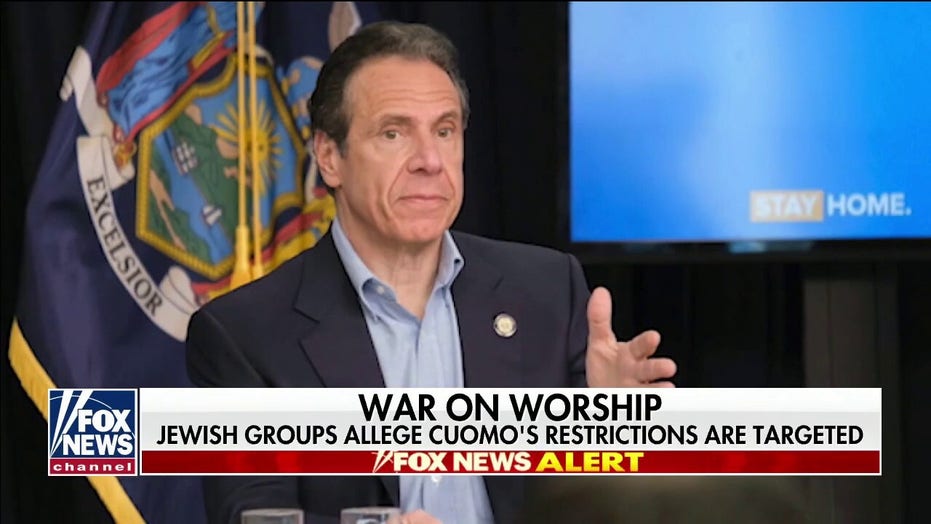 Orthodox Jewish groups claim Cuomo's COVID-19 restrictions are 'blatantly anti-Semitic'
Religious groups sue Gov. Cuomo administration; Lauren Green reports.
An Orthodox Jewish community hosted a wedding on Monday night that appeared to flout coronavirus restrictions laid out by New York Gov. Andrew Cuomo.
Footage and reports of people attending were reported by several news outlets. On Tuesday, the Daily Mail published photos showing groups of people gathering outside of the event. Fox News hasn't confirmed the number of people who attended, but Yetev Lev Synagogue in Kiryas Joel near Monroe is known for being able to host thousands, according to the Mail.
A carpentry contractor told the Daily Beast no one inside was wearing a mask.
It's unclear how the state health department will proceed but it indicated to Fox News on Monday that it would intervene if the wedding broke social distancing guidelines. 
"In the event that the ceremonies are not canceled, the order requires that social distancing and face covering protocols be enforced," Jill Montag, a New York Department of Health spokesperson, told Fox News. "With respect to the two receptions, it requires that they be limited to 50 people or canceled."
Montag confirmed to Fox News on Tuesday that it was investigating the issue.
"We are aware of reports that a gathering was held and are investigating whether there was adherence to the guidelines laid out in the order. If not, we will pursue all appropriate legal remedies," said Montag.
The event came amid a broader uproar surrounding New York's attempt to enforce coronavirus guidelines on the Jewish community. On Sunday, Gov. Andrew Cuomo blasted a Brooklyn synagogue's reported decision to hold a secret wedding amid growing cases in the state.
The New York Post reported that guests, mostly unmasked, crammed inside the Yetev Lev temple in Williamsburg neighborhood in Brooklyn for the Nov. 8 wedding of Yoel Teitelbaum, a grandson of Satmar Grand Rabbi Aaron Teitelbaum, in violation of coronavirus restrictions that ban large indoor gatherings. The synagogue has a capacity of 7,000 people.
"If that happened it was a blatant disregard of the law, it's illegal, it was also disrespectful to the people of New York," Cuomo said, adding that the city should conduct an investigation.
A spokesperson for New York City Mayor Bill de Blasio said his office was investigating the issue, according to the Associated Press.
"The city is conducting an investigation into the incident and will hold those accountable to the fullest extent of the law," spokesperson Avery Cohen said. 
Later on Monday, the Post reported that City Hall would levy a $15,000 fine on the Brooklyn synagogue.
The Associated Press contributed to this report.
Source: Read Full Article